If You Want To Rain On My Hillary Parade, Sit Your A** Down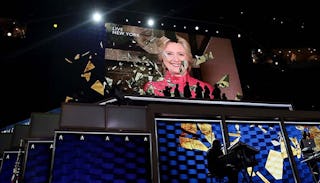 Image via Drew Angerer/Getty Images
Hillary Clinton accepts Democratic presidential nomination and gives a message to all little girls
I laid next to my three-year-old daughter after she'd fallen asleep last night and just looked at her. I couldn't stop thinking, A woman will likely be the first president you remember.
Madame President.
A lot of us watched last night when Hillary accepted her nomination. Images of presidents past were projected onto a screen. They were all men, of course. It's all we've ever known. Then an image of Hillary was projected via satellite — shards of glass "breaking" all over the convention floor — as a nod to the glass ceiling we're all watching shatter thanks to our first female presidential candidate nominated to a major party, whether you love her or not.
If you have a daughter and that didn't give you chills, you may need to check your pulse.
It will simply never occur to my children to think for a moment that only men can be president, because they will be seeing a woman in office. None of us have been able to say that about our own childhoods. No matter how ambitious we were, or how much our parents tried to instill a belief that we could be whatever we wanted, we simply never saw it for our ourselves.
Our daughters will.
"What an incredible honor that you have given me, and I can't believe we just put the biggest crack in that glass ceiling yet," Clinton said in her small acceptance speech. "Thanks to you and to everyone that's fought so hard to make this possible. This is really your victory, this is really your night."
So don't try to rain on my Hillary parade. No one is saying any candidate is perfect (and perfection is certainly never expected from men.) All we are saying is sit the fuck down and let us enjoy this moment that we've been waiting for our entire lives. Let us bask in it with our daughters and look at them knowing the world will be an already more welcoming place for them because of what we are witnessing this week.
Clinton ended her speech with this empowering message to our daughters: "If there are any little girls out there who stayed up late to watch, let me just say, I may become the first woman president, but one of you is next."
Indeed.
This article was originally published on