Hillary Clinton Wrote A Children's Book And You're Going To Want It
by Valerie Williams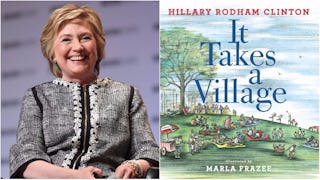 Image via Angela Weiss/Getty Images/Simon and Schuster
"Sometimes it takes a child to make a village"
Teaching a small someone they have the power to change the world isn't easy, but an incredible new children's book by Hillary Rodham Clinton aims to inspire our kids to do just that.
In It Takes a Village, the former Secretary of State and Democratic Presidential nominee's first kid's book, the themes from her New York Times best-selling book It Takes a Village are explored to teach children what we can do to make the world a better place.
Clinton's niece, Fiona Rodham, reads part of the book aloud in a trailer released this week, exclusively to Scary Mommy.
Illustrated by Marla Frazee, the book's simple imagery and words provide kids with a universal message about everyone working together toward a common goal.
Throughout the story, children see a diverse group of people, each filling a role to make their community, their village, a better place.
The book teaches kids the importance of living, playing, and working together in order to make a difference, and that everyone has a part in making the village work.
Clinton reminds kids that although they have learning to do as they grow, adults don't have all the answers either. Both children and grown ups have ideas, and this book explains why the village is stronger when everyone comes together to share them.
Because it totally takes a village to help children become successful and happy adults. Every child does need a champion. "Or two. Or three. Or more."
When our kids succeed, we all do. They're our future, and that's where Clinton places much of her focus in her public work. Her new books (she also released What Happened this week, her much-anticipated account of the 2016 presidential election) got the attention of our Commander-in-Chief, and after he crudely called her out on Twitter, she had the perfect response.
We'd be hard-pressed to think of anyone who needs to learn the lessons taught in It Takes a Village more than him, so hopefully, he takes Secretary Clinton up on her generous offer.
[ss_featured_video]