Hillary Clinton Says Staying Married Was The 'Gutsiest' Thing She's Ever Done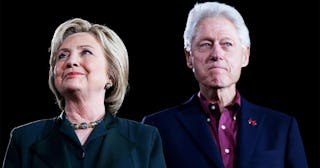 Justin Sullivan/Getty
Hillary Clinton opened up about Bill Clinton's infidelity and her "gutsy" decision to stay in the marriage
Whether you love her or hate her, most people can agree that Hillary Clinton is a tough-as-nails warrior with true grit. From Bill Clinton's impeachment scandal in the '90s, to serving as secretary of state, to the entire saga of the 2016 Presidential Election, this woman is resilient as they come. Hillary continually powers through triumph and strife but during her time as a public figure, she's always carefully avoided revealing anything particularly personal or intimate and typically avoids addressing her husband's infidelity altogether. In a new interview with Good Morning America, the former secretary of state and first lady did a rare thing and opened up about her marriage, calling her decision to stay with Bill after his affair the "gutsiest decision" she's ever made.
Hillary and her daughter Chelsea Clinton just co-authored the book The Gutsy Book of Women, which profiles a number of courageous and "gusty" women who have "inspired them…women with the courage to stand up to the status quo, ask hard questions, and get the job done."
Naturally, GMA anchor Amy Robach had to ask Hillary what she believes is the "gutsiest" thing she's ever done, to which Hillary surprised everyone and said, "I think the gutsiest thing I've ever done, well, personally, [is] make the decision to stay in my marriage."
Hillary stayed with Bill after his affair with then 22-year-old White House intern Monica Lewinsky, and it is still just as controversial today as it was in 1998. It is shocking to hear Hillary speak so candidly on this topic, because when the story broke, Hillary stood by her husband's side, and generally stonewalls the press whenever the topic arises.
Even her daughter Chelsea was shocked by her mom's vulnerability and said, "Goodness, I'm so overwhelmed by my mother's answer that I'm a bit out of words. I'm just so proud to be her daughter."
As for the gutsiest thing that Hillary has ever done professionally? She says it was running for president and then surviving the aftermath, calling her gutsiest move the ability to "just get up every day and keep going,"