The FAQs We Asked Google In 2020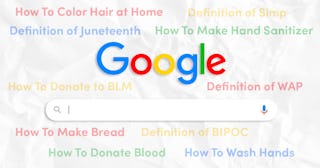 Scary Mommy and Google
This past year felt like being punched in the head over and over again and just when we anticipated another blow to the noggin, we took a punch to the gut instead; we were constantly wobbling in pain and confusion. I'd like to say hindsight is 20/20, but when looking back on 2020 I'm having a tough time seeing much with clarity beyond the uncovered truth that this country has a lot of social-emotional work to do. 2020 offered plenty to learn and stay informed about, though. COVID-19, murder hornets, police brutality, wildfires, and a presidential election featuring a misogynistic racist supported by half of the country kept us asking Google the tough questions. There were plenty of hard lessons to learn in 2020, but did we actually? I decided to take a look at Google's top searched topics in several categories.
I'm not sure how much we learned, but it was interesting to see how much we didn't know.
Top Searches
According to Google, the top three searches of the year were election results, coronavirus, and Kobe Bryant respectively. Zoom, Naya Rivera, and Chadwick Boseman were also in the top 10. The top three trending news topics of the year were election results, coronavirus, and stimulus checks, followed by unemployment. It's interesting to me to see how many people were fixated on celebrity deaths while also struggling to find answers on how to survive.
How To Help…
The pandemic has been new to all of us, but the problems it illuminated were not all novel. Economic disparities, systemic racism, and the disproportionate rates at which Black, queer, and disabled folks were affected by the virus put into perspective how vulnerable marginalized communities are. COVID-19 caused a lot of problems but it exacerbated ones being ignored or denied. Thankfully folks seemed to want to take action.
More than any other inquiry, people asked Google how to help the Australia wildfires. That was followed by asking how to help the Black Lives Matter movement and how to help during coronavirus. Folks were also looking for advice on how to soothe acid reflux, panic attacks, and nausea, which feels about as 2020 as folks getting caught masturbating on Zoom.
How To Donate…
While we were all wondering when our stimulus checks would arrive (I saw no searches on how to patiently wait for these), others were asking where they could donate their time, money, and bone marrow. How to donate to BLM was the top search in this category, followed by how to donate to Australia brush fires, and then how to donate blood. Folks were also eager to donate eggs, plasma, and funds to the Georgia senate runoff.
Beauty How-Tos…
Based on how heavy and heartbreaking much of the news was this year, I was surprised by the contrast of the simplicity of some of the searches that related to taking care of ourselves, specifically our hair. You remember the Karens demanding haircuts, right? Well plenty of others decided to do it on their own without protesting in front of SuperCuts. The top search was how to cut men's hair at home, followed by how to plop hair, and how to color your hair at home. Also in this was section was the curious question of how to wash your hands. I get not being able to give yourself a fade, but didn't we learn hand washing in kindergarten? Pandemics are weird, and make us question bangs and our ability to perform basic hygiene.
How To Make…
This was my favorite category to compare results because many of us turned into travelers on the Oregon Trail and decided to bake, sew, and make shit from scratch but still needed to figure out their avatar. Folks were asking Google how to make hand sanitizer (1), fabric face masks (2), and bread (6). Yet because we aren't living in the 1800s, people also wanted to know how to make whipped coffee (3), a Bitmoji classroom (8), and a live wallpaper (10). Online teaching while brushing flour out of our hair? What a time to be alive!
Definitions…
Curious minds wanted to know the meaning to words they were either hearing for the first time or hearing often enough to make them go digging for definitions. The most searched word according to Google was WAP. #2 was entanglement, which is fitting if folks were trying to create a WAP-type situation or if they were just fucking sick of the people they were stuck in quarantine with. Juneteenth (6) and BIPOC (7) also made that list, so this gives me hope that maybe some folks are educating themselves.
The word simp was #9 on the list and has become a popular slang term on TikTok and with the young people. I'm not all that hip, but it seems to be more insult than compliment because a simp is usually a male who does nice things in order to win romantic interest or sexual rewards. Urban dictionary describes a simp as someone "who does way too much for someone they like." Call me skeptical, but this seems like another layer of toxic masculinity that can go down in flames with the rest of 2020.
The new year may have brought a new date, but we are still very much in the thick of the pandemic. And while our searches will still be fixated on all things COVID-19—new strain, vaccine, stimulus checks—I hope 2021 will provide some interesting highlights and enlightenment about plenty of other topics too.
This article was originally published on