It's Hispanic Heritage Month — Here Are 5 Must-Reads To Get You Started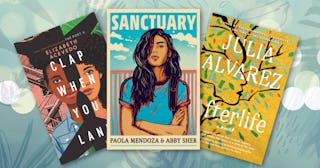 Scary Mommy and Amazon.com
At a time when there's so much drama and heartbreak in the news and media, why not sink into stories other than the ones stuffed down our throats when we turn on the television or pick up a newspaper or (dare we) log onto Twitter? We have a lot going on around us, but this month — Hispanic Heritage Month — we get to learn, celebrate, and educate ourselves about Hispanic culture, individuals, and heritage.
We have a newfound thirst to learn about people who may look different than we do and cultures that may be different than our own, a thirst propelled by the Black Lives Matter movement. But like all things, we can only learn about others when we are dedicated to educating ourselves about the plight of those who are different than we are — and a great way to start is by picking up a good book.
Hispanic Heritage Month kicked off this September 15th, and runs through October 15th. But don't stop learning on October 15th; keep reading, keep learning, keep showing up to understand one another. Hispanic Heritage Month is a national time to honor the cultures and the contributions of Hispanic Americans with roots in Latin American countries. Storytelling provides a unique opportunity for writers to share a glimpse of something — whether that "something" is an understanding of culture or emotions or injustice or stories of hope — that can help us all be better humans ourselves. No matter the genre: fiction, nonfiction, young adult, we can all learn something from the stories of Latinx writers.
Don't know where to start? We can help.
O Magazine listed Alvarez's book as "A Most-Anticipated Book of the Year." After a 15-year hiatus, her novel Afterlife puts us into the shoes of Antonia, a newly retired English professor, and the main character. Antonia must come to terms with the fact that her love for words, for books, for the stories she reads are no longer enough to sustain her as life's challenges almost bring her to her knees. We see Antonia battle the grief of suddenly losing her husband, her sister disappearing, and the arrival of a pregnant, undocumented teenager. This all makes her question the way she's looked at the world — through words. Alvarez's book makes us question, "How do we live in a broken world without losing faith in one another or ourselves?" Such a timeless question for us all, and one we must constantly ask ourselves every day, especially in today's political and social climate.
In this coming-of-age novel, Afro-Dominican American author Elizabeth Acevedo explores emotions we can all relate to: "loss, the difficulty of forgiveness, and the bittersweet bonds that shape our lives." The book chronicles themes of cultural differences between the main characters: sisters, one who lives in the Dominican Republic, and the other who lives in New York City. They must come to terms with the loss of their father while oceans apart. This is one you can read with your young adult and discuss afterward.
Rachael Lippincott, the author of Five Feet Apart, says of this book that "Martins perfectly captures the magic of first love and the power of being exactly who you are. Remarkably relatable." Don't you want to read about the innocence, the hope, the promise of one's first love? While you're stuck at home, take a trip during Felipe and Caio's school break, and move in with them as they figure out their relationship over fifteen days. As a human race, we are more alike than we are different, and this queer/YA novel takes us there.
Sanctuary by Paola Mendoza and Abby Sher
Bookshop introduces us to this book like this: "Co-founder of the Women's March makes her YA debut in a near-future dystopian where a young girl and her brother must escape a xenophobic government to find sanctuary." This one hits maybe a little too close to home given the state of our world, but for that reason alone, it's well worth the read. Take a trip through the lives of undocumented immigrants through the lens of a sixteen-year-old boy who must also carry his family's livelihood on his shoulders. You might be asking yourself by the last page: where do you find sanctuary?
We've heard the word "Latinx" — and used it, even — but what does it mean? This book takes us on a journey, as the reader, to hear from the mouths of the Latinx community often overlooked. Within the 336 pages of her debut novel, Ramos provides an in-depth look into the Trans-Latinos, Afro-Latino, and Cuban-American communities to help us understand the political, social, and cultural differences which make up the voices collectively known by this term.
These five books teach us not only about humanity, but that we all have valuable feelings and can learn so much from another person's lived experience. To keep humanity on stable footing, we must all take a little time to sit with the stories spoken from voices different than the ones in our circle.
Oh, and don't forget to bring your kids along for the read; we can only move forward as a human race if we do so together.
This article was originally published on