AG's Newest 'Historical' Doll Is From The 80's, So We're Officially Old
by Valerie Williams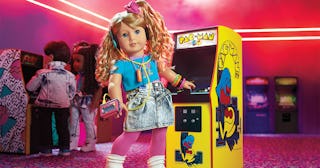 American Girl
American Girl's latest "historical" doll is from what older millennials might call the VERY recent past, TYVM
Sometimes my tween kids refer to my life as a kid "back in the 1900s" and I want to die of Oldness. Much as us elder millennials want to pretend 1988 was 15 years ago, that's just not the case. Now, we have a blatant reminder of just how old we are in the form of American Girl's latest "historical" doll — Courtney Moore, "a total '80s girl who's changing the game to find her inner hero."
The '80s. Historical. I refuse to accept this. *teases bangs and pulls on stirrup pants*
According to a release from American Girl provided to Scary Mommy, Courtney is, "a total '80s girl whose big, bright and bold ideas inspire today's girls to find their inner hero to accomplish great things. Growing up in 1986, Courtney's story reflects the pop culture of the decade from sky-high hair, neon-colored fashions, music television, and video gaming to major historical moments surrounding women in government and space exploration, as well as larger cultural shifts around blended families and emerging technology."
So in true American Girl fashion, Courtney is far from a passive character and has lots of ideas on how to change her (*gulp* historical) 1980s world. She's described as "an avid gamer growing up with her blended family in the fictional town of Orange Valley, CA."
"Courtney loves going to the mall, especially the arcade, where she's one of the top-scoring PAC-MAN™ players. But Courtney doesn't only play video games, she'd like to create them and bring more girl characters to the forefront," the brand explains.
To that end, American Girl is celebrating Courtney's debut by partnering with Girls Who Code, "a leading nonprofit that's on a mission to close the gender gap in technology and change the image of what a computer programmer looks like and does." Through the end of 2020, American Girl is "matching customer donations dollar for dollar up to a maximum of $50,000 to support the organization's programming and outreach to girls, including those from historically underrepresented minority groups."
That wonderful news definitely helps offset the feeling that us moms are O L D. So do Courtney's amazing, nostalgic accessories including her Caboodles® and Hair Accessories Kit with a real mini Caboodle, Care Bears™ Pajamas for both girls and dolls, and Courtney's Care Bears™ Sleeping Bag Set. There's even a doll-sized PAC-MAN™ Arcade Game that "plays like the real thing with multiple levels."
We have a lot of love for her era-appropriate boombox, clothing, bangle bracelets, and totally rad hairstyle.
But it might be her very own "Molly" doll and accompanying book, originally released in 1986, that melted us. How very meta.
In celebration of the brand's first historical doll in three years, there's a 25-minute stop-motion movie all about Courtney. There's also a music video.
The fact that she looks like she could be any of our yearbook photos from 1986 is pretty adorable, even if it makes us feel mega ancient.
The doll is available online now and will hit American Girl stores on September 25.
This article was originally published on