H&M Launches Bra Collection Specifically Designed For Breast Cancer Survivors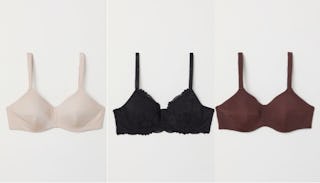 Image via H&M
During October, 100 percent of the proceeds from H&M's new bra collection will go to the American Cancer Society
Finding a bra that fits the way it should is a struggle for most women, but for those who've had a mastectomy, finding a bra you love and feel comfortable wearing can be almost impossible. Not only do your old bras not fit, the surgery leaves women with scars, bumps, and with unique needs that most of us don't comprehend. Thankfully, H&M gets it.
The company understands that traditional lingerie isn't always going to cut it for this group of customers and decided to do something about it — launching a collection of bras specifically designed for those women who've had a single or double mastectomy. The Close to My Heart collection pays homage to one of their employees, a breast cancer survivor who wanted to find a bra that was both comfortable and stylish.
Their new collection comes in three adorable styles: your everyday basic mircofiber bra, a gorgeous lace number, and a sports bra with a front-closure. The bras range in size from 32A to 38D and each style comes in a variety of colors, so there's no shortage of options.
Each bra comes with cups that have ventilating mesh pockets sewn in for breast prosthetics, but can also be worn by women who haven't had a mastectomy as well. "The bra models have been developed in close collaboration with women who have had breast cancer and removed one of their breasts," an H&M spokesperson told TODAY Style. "The differences between an ordinary bra and these is that they cover more of the breast and that it has pockets for the prostheses. The pockets are made in a mesh quality for extra support of the prostheses."
October is Breast Cancer Awareness month which is aimed at increasing awareness of the disease. According to the CDC, more than 240,000 women get breast cancer each year in the U.S. If we've not personally been affected, we know someone who has. And while it's important to acknowledge and wear your pink with pride, purchasing a bra from the new H&M collection will also give directly to the cause.
Their collection is available now online, and for the month of October one hundred percent of sales will go directly to the American Cancer Society in honor of Breast Cancer Awareness Month. "United against breast cancer, H&M and the American Cancer Society are asking you to join the fight in the month of October," the company wrote on their website. "Help us reach our goal of $125,000 by rounding up your purchase in every H&M Store nationwide and H&M will match up to $25,000 in customer donations."