H&M's 'Daddy And Me' Collection Is Next Level Adorable
by Christina Marfice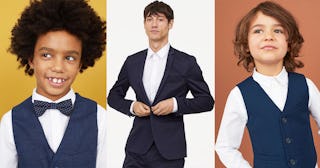 H&M
BRB, heading to H&M to check out this adorable "Daddy and Me" collection
There's no time like Spring for a wardrobe refresh, amirite? The sun is out, the birds are chirping — there's no better time to look fresh. To. Death. And thanks to an adorable new collection at H&M, kiddos and their dads can look fabulous together.
The "Daddy and Me" collection features a ton of formal wear in matching styles in both kids' and adults' sizes, and let us just say that absolutely everything in this collection is to die for. While it's maybe a little too formal for everyday wear, if you have a special family occasion coming up (family portraits in that Spring sunshine, anyone?), you're going to want to clear the racks at your local H&M so the kids and dads in your family have outfit changes for days.
Let's start simple, with this easy-iron white-collared shirt that can go under a blazer or jacket, or stand alone. Your choice. It looks great either way, and of course, comes in sizes for kids and grown-ups. Can we take a moment to "awwww" over those little suspenders? Goodness.
Looking for something a little snazzier than that? H&M has got you covered, fam. Check out these classy blue linen numbers that you can dress up with a pair of slacks, or dress down with some nice jeans. This just screams summer wedding attire, y'all. The choice is yours, again in both kids' and adults' sizes.
But what really makes this collection so special is that it has a bunch of options for very classy-looking suits, in both kids' sizes and adults. They come in a number of different colors, and with different pieces. Like check out this blue suit with a matching vest. Won't that look amaze on a kid/dad in your life? We bet it will. Here it is in kids' and adults' sizes.
It only gets fancier from there. Other options include a pants-and-blazer combo that comes in a classy grey. Mother's Day brunch, anyone? Check out the kids' pants and jacket, and the adults' pants and jacket.
You can also get the same setup in black or navy, in case that's more your style.
Of course, none of these looks would be complete without the perfect shoes to go with the outfit. For dads, H&M has some snazzy looking loafers. But those are a little too grown-up for the kiddos, so they get their own version of sneakers in a similar suede finish.
And for Daddy and Me duos who want that super stylish look of a fun sock peeking out of the bottoms of their pants, H&M has that covered, too, with fun printed socks in a package of kid and adult sizes in one.
Basically, H&M's got everything dads and their kids need to look super fly heading into the warmer weather (and wedding season — how perfect are all these getups for wedding season?). Plus, they're all available at H&M prices, which, when it comes to outfitting a tiny human prone to massive growth spurts in a suit, is important.
So if any of your summer events calendar includes needing a formal look, get thee to H&M.
This article was originally published on