'Hocus Pocus' Cast Reunites Virtually To Urge Everyone To Vote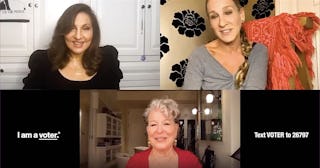 I am a voter/Getty
The Sanderson Sisters gathered virtually to create a spellbinding new PSA urging people to vote in the Presidential Election
Every Halloween millions of Americans plop down in front of the television to watch the most brilliant Halloween movie of all time: Hocus Pocus. This Halloween season is a little different than others, as it is an election year. Just days after the spooktacular holiday, Americans will be flocking to their polling site and casting ballots for the President of the United States. Therefor, it makes total sense that the Sanderson sisters — aka, Bette Midler, Kathy Najimy, and Sarah Jessica Parker — are gathering together not only for a highly anticipated sequel, but to encourage everyone to vote responsibly.
The actors joined forced with I am a voter — a non-partisan movement that aims to create a cultural shift around voting and civic engagement by unifying around a central truth: democracy works best when all participate — to film the adorable PSA. They start off the video by discussing their current voting status, explaining why having a plan is necessary. They also point out how easy it is to get ready, check your registration status, and get information about local elections by using I am a voter text platform — just text VOTER to 26797.
They also shared some pretty frightening statistics. For example, 100 million eligible voters did NOT vote in 2016 and less than ⅓ of the youth vote voted in the last Presidential election.
And just in case their words aren't enough to get you to vote, in true Sanderson sisters fashion the actresses got into character and cast a spell to "MAKE THEM VOTE."
"We are so honored that Bette Midler, Kathy Najimy and Sarah Jessica Parker took the time to create this powerful PSA with us," Sahar Sanjar, Founding Team Member of I am a voter. explained in a press release. "To have the support of these leading women, and to see them reprise a beloved moment from the Hocus Pocus film, just ahead of Halloween, and the election, is powerful, informational, and entertaining! We hope everyone will fall under the spell and VOTE! Our mission at I am a voter is to create compelling and positive content to reframe the conversation around civic participation. We are inspired by their activism and using their powerful voices for good!"
"Reunited with my sister witches @kathynajimy @sarahjessicaparker and we may have cast a spell on Americans to increase voter turnout. Using our magic for good, can you believe it?" Midler captioned the video on her Instagram account.
Hopefully, it won't take a spell to get you to the polls this year. Vote for humanity, vote for saving lives, vote for equal rights, and most importantly, vote for the next generation.