Viral TikTok Shows Possible 'Hocus Pocus' Easter Egg In 'Halloweentown II'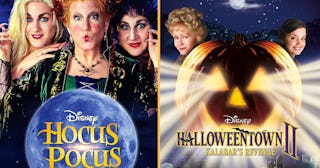 That dress at the end of Halloweentown II looks awfully familiar…
Yesterday was a glorious day for Hocus Pocus and Halloweentown fans: Both popular Disney films — more specifically Halloweentown II: Kalabar's Revenge — aired on Saturday as part of Freeform's 31 Nights of Halloween. And thanks to one eagle-eyed TikTok-er, @lyssalyssalyssahh, we all had our eyes peeled and ready to spot a possible, blink-and-you-just-might-miss-it Hocus Pocus Easter egg tucked away in the second of four Halloweentown films.
"If you're a Disney fan or you just enjoy Easter eggs or conspiracy theories, I recommend you keep watching," @lyssalyssalyssahh started her now-viral TikTok video posted on Oct. 13. "We watched the first three Halloweentown movies this weekend, just as you do, and at the end of Halloweentown II: Kalabar's Revenge, I noticed something."
That something was possible proof of Hocus Pocus and Halloweentown existing in the same universe.
Toward the end of Halloweentown II, young witch Sophie, played by Emily Roeske, transforms a person into different characters, one of which looks very familiar. "Is this, or is this not, Sarah Sanderson's exact outfit?" @lyssalyssalyssahh asks. "Does this mean that Hocus Pocus and Halloweentown exist in the same universe?"
She isn't wrong about the outfit… but was it intentional? They're both Disney films after all, but was this Halloweentown II director Mary Lambert's way of paying tribute to Hocus Pocus? Or, was the costume simply recycled?
"When watching [Hocus Pocus], it is obvious that several copies of the costume were made for Parker, as the locations of the embroidery on her bodice tend to change throughout the film," a "Recycled Movie Costumes" blogpost from 2016 points out. "One version of the costume appears to have gone on to be used on an extra in the 2001 film Halloweentown II, though the bodice has clearly been altered."
This isn't the first time Hocus Pocus fans have pointed out a share-worthy crossover.
Remember the scene where Dani and Allison celebrate the witches' death and they run to a park with a tiered water fountain? Yeah, that's the same fountain the Friends cast so famously splashes around in in the opening credits of the hit multi-season NBC show.
Another fun fact is that Bette Midler's Winifred makes a subtle nod to one of Midler's movies. When Winifred says, "Hello Salem, my name is Winifred. What's yours"?, this is a reference to the musical Gypsy, during which Midler's Madam Rose says, "Hello everybody, my name is Rose. What's yours?" Gypsy was released in 1993, the same year as Hocus Pocus.