Here's All The Fun 'Hocus Pocus' Merch You Need This Fall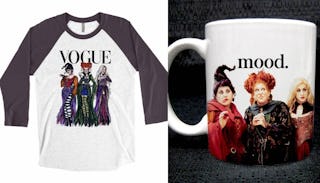 Image via Etsy/handprintedstyle/DirtyPrettyThings105
Etsy has all the unique 'Hocus Pocus' garb you'll need to represent the Sanderson sisters this fall
If you're like me, the arrival of fall means something more than PSLs, apple-picking, scarves, and UGG boots — it also means the official start of Hocus Pocus season.
Because don't act like I'm the only one who watches this movie on repeat for the two months leading up to Halloween.
Hocus Pocus is every 90's kid's fave — and for good reason. It's hilarious, kinda spooky, and the three star witches, played by Bette Midler, Kathy Najimy, and Sarah Jessica Parker are timelessly quotable. This movie has lasted through a generation and if I have anything to say about it, my kids will be just as obsessed with it 20 years from now as I am. Like all good obsessions, gear is required — thankfully, there's no shortage of adorable Hocus Pocus-themed items on Etsy. I've taken the trouble of finding the cutest ones, and you're welcome for that.
If your squad doesn't include Winifred, Mary, and Sarah, I shan't be joining, so this t-shirt is perfect.
As long as we're talking tops, this raglan "Vogue" tee has the sisters looking exactly as fierce and fabulous as they know they are.
There are tons of fun coffee mugs featuring our favorite trio of 300-year-old witches, but this one gets my vote for #1.
A close second celebrates one of the best quotes from any movie ever — and the sisters' iconic 17th century hairstyles.
After dribbling a little coffee in your morning stupor, you'll want to wipe it up with one of these super cute kitchen towels. That one with the spell can serve as a constant reminder to your kids that you absolutely mean it when you tell them you'll turn them into black cats destined to haunt an abandoned cabin for the rest of eternity if they don't get their shit together. Just me? OK.
Speaking of completely terrifying the kids, I need this doormat immediately if not sooner.
Once the kids are in bed though, it's time to relax with your coven and a glass of wine — these Sanderson sister stemless numbers should do the job.
If you're looking for some kitsch with a legit historical feel, this very official-looking wooden plaque has your name all over it.
And because there are simply way too many "gotta have it" Sanderson sister shirts, check out this one.
Lastly, if Halloween simply isn't enough for you when it comes to Hocus Pocus worship, you can extend it all the way to Christmas with the three ladies hung on your tree.
Happy shopping!