This 'Hocus Pocus' Walking Tour Will Give You The Most 90s Halloween Ever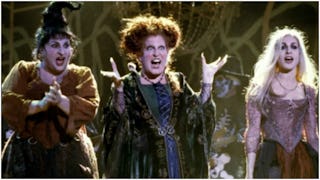 Image via Walt Disney
Halloween just got so much spookier with this Hocus Pocus walking tour
Nothing captures the Halloween spirit more than an annual viewing of the truly classic 90's film Hocus Pocus. You get to revisit the Sanderson sisters turning people into cats, you get to have a little reunion with your childhood crush Max Dennison (no? just me?), and there are few greater joys than watching Bette Middler play a soul-sucking witch.
Now, what if I told you that you can actually visit all the places from the film? Buckle up, because this is about to be your spookiest Halloween yet.
Hocus Pocus was filmed almost entirely on-location in Salem, Massachusetts and a lot of the filming spots are still around today. So, yes, that means you should probably book your trip to Salem ASAP, Black Flame Candle in tow.
Let's take a tour, shall we?
Salem's official website offers up a handy guide to all the different locations used during filming. First up, we have Pioneer Village, located at 310 West Ave, which was featured in the opening scenes of the film when Thackery Binx is living in olden times. These days, it's a living history museum with tours conducted between June and September. The village was built all the way back in 1930 so you'll get a lesson in both history and pop culture.
Venture over to the Salem Common to get a peek at Max's school, located at 86 Essex St. Unfortunately, you can't actually look inside but that's probably for the best because nobody wants to get locked in that kiln.
Head to 32 Derby Square to check out the location of the Halloween party where all the parents are (literally) enchanted by the Sanderson sisters. This is the perfect part of your tour to cue up "I Put A Spell On You" and pay your deepest respects to Bette Middler, Sarah Jessica Parker, and Kathy Najimy.
You can also check out Allison's house at 318 Essex St. The property is now owned by the Peabody Museum and the gardens are free to visit for the public.
The pièce de résistance is Max's house, located at 4 Ocean Drive. It looks exactly the same in 2018 and will make your 90's-loving heart feel all the witchy feelings.
Well, there you have it. Get thou there to have your spookiest, most soul-sucking Halloween yet. The Sanderson sisters are patiently awaiting your arrival.