Hoda Kotb Announces Adoption Of 2nd Baby Girl In Sweet Instagram Post
by Julie Scagell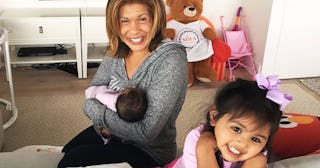 Image via Today Show via Instagram
Hoda, Haley, and Hope — it doesn't get any more adorable than that
Hoda Kotb spends her mornings on the TODAY Show delivering the news and making fans smile on the daily, but it was Kotb being featured on today's news segment, POPstart, announcing the birth of her second child, Hope Catherine.
The TODAY co-anchor surprised everyone, including most of her co-workers, during a phone interview Tuesday morning, revealing the adoption of a second baby girl. She surprised fans two years ago in similar fashion when she announced the adoption of daughter Haley Joy.
https://www.instagram.com/p/BwUPMRqgLRv/
Co-host Savannah Guthrie, who'd been let in on the secret over the weekend, asked her how she's feeling about everything. "I'm feeding her, and I can't believe it," Kotb said tearfully to the rest of the TODAY Show crew. "I'm so happy she's here!"
Kotb isn't the only one who is happy baby Hope is in the house. "This morning at breakfast, (Haley) was trying to feed (Hope) her raspberries, and I was like, 'Not yet, babe,"' Hoda said. "She was literally marching around saying, 'I'm a big sister!"'
The 54-year-old has been open with her battle with breast cancer a decade ago which left her unable to conceive. She's always wanted to be a mom and when it finally happened in 2017, she was overwhelmed with emotion. "It's one of those things where you think you've done it all, you think you've felt it all, but I just didn't know this kind of love existed."
As her TODAY Show family wiped away tears of joy taking in the exciting news, Kotb talked about how much her heart, and that of boyfriend Joel Schiffman, has expanded in these few short days. "You know what's funny? You think that you're full," she said. "That's exactly how I felt with Haley and Joel and everything. Joel and I were standing there when they hand you the baby, and it's the closest thing to a live birth you'll ever see, but in that moment, I was like, 'Oh, my God, my heart just grew.' It's amazing. I can't believe it's happening."
Kotb left a cryptic message on her Instagram yesterday and was noticeably absent from the show, but it wasn't until today that the news was confirmed.
In the last hour of the TODAY Show with Guthrie and Jenna Bush Hager, Kotb was back on the phone continuing to sing Hope's praises. "My heart is, like, exploding," she said. "In my heart, I was like, 'Please, God, I hope this is something you anticipate for me," she said. "To get the call is so mind-blowing, you can't believe someone's saying come and get her, she's here. It's amazing."