Hoda Kotb Announces Adoption Of Baby Girl In Sweet Instagram Posts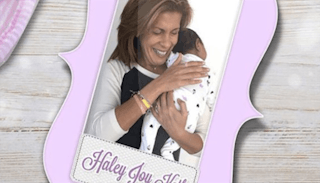 Image via Instagram
Hoda Kotb adopts baby girl
Hoda Kotb has recently taken some time off from her co-hosting duties on the popular morning show, Kathie Lee & Hoda. She began posting cryptic, love-filled messages on her Instagram account — and now we know why. Hoda has adopted a baby girl.
Here are some of the hints she was leaving the world…
And then, these beautiful announcements.
"And then my soul saw you and it kind of went, 'Oh, there you are. I've been looking for you.'" She captioned the post simply with her baby's name, "Haley joy."
Then she gave fans a glimpse of her little nugget:
"Hoda's love for children is no surprise," writes Today. "She often shares with the TODAY audience stories about time spent with her nieces, Hannah and Ella, frequently showing pictures of her extended family on the air." Hoda currently lives with her boyfriend of three years, and has been married once before, but had no children — until now.
Her co-workers shared their joy and congratulations on Twitter:
Today reports that Hoda's mom, upon seeing Haley for the first time said, "Hi little Haley. We've waited so long for you!" Hoda told Today, "She is the love of my life."
The joy on Hoda's face in her announcement is contagious. We are so thrilled for you, Hoda. Congratulations!
This article was originally published on