Hoda Kotb Breaking Down In Tears On The 'Today' Show Is All Of Us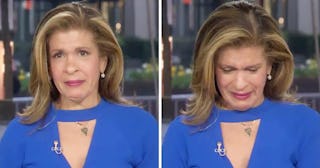 Today/Twitter
People are showering Hoda Kotb with love and support after she broke down in tears during the Today show
Reading the news these days can be pretty stressful. It seems like every headline is dominated by the coronavirus, and for good reason — it's still spreading, tens of thousands of new people are becoming sick every day, and thousands have died all over the world and now, in the U.S. We're all just doing our best to deal with the anxiety and uncertainty of these times, and it's really freaking hard for everyone, even Hoda Kotb, who broke down in tears during a Today show segment, prompting viewers to shower her with love and support.
Hoda was interviewing New Orleans Saints quarterback Drew Brees, who just committed to donating $5 million to Louisiana's coronavirus response.
At the end of the interview, though, Hoda was unable to finish the segment because she broke down and began sobbing onscreen.
Co-anchor Savannah Guthrie came to the rescue, saying, "Take a moment. It's a lot. We know it's a lot." Hoda wasn't able to stop crying before the camera cut away, and for so many Today show viewers who saw her break down, it was one of the most relatable things ever to happen on the show.
Hoda's breakdown served as a kind of reminder that no one is immune from the stress and fear of these times.
And people were quick to shower her with love for showing her real and vulnerable reaction to the crisis.
The truth is that navigating a global crisis of this scale is new territory for us all, and we all have to just try our best to cope in whatever ways we can. If that means needing to cry a little bit now and then, even on camera, we can all be proud to be just as strong as Hoda.
This article was originally published on