All Muggles Need This 16-Piece Hogwarts House Dinner Set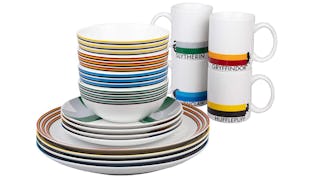 Image via Amazon
Your meals just became so much more bewitching with this Hogwarts dinner set
Attention all Muggles. You might not have gotten your Hogwarts acceptance letter (whatever, not bitter at all) BUT that doesn't mean you can't feast like you're in the Great Hall. Amazon is selling a Hogwarts house dinner set and it'll turn all your meals into a bewitching good time.
This 16-piece Hogwarts set comes complete with four big plates, four smaller plates, four medium bowls, and four mugs. The best part? Each set features a different Hogwarts crest, which means that you can accommodate all the various personalities in your family.
This one goes out to the bravest, boldest, and overall sassiest member of your family. Harry, Hermione, and Ron will join your dinner in spirit.
These plates pay tribute to the wisest, most intellectual family member in the bunch (who's only, like, kind of smug about the fact). Now, fingers crossed that the Grey Lady stops by for a little visit.
Forget the naysayers. If you're a Hufflepuff, you should fully own it. Always remember that Cedric Diggory was part of the tribe (*sigh* R.I.P).
The Slytherin dinner set should definitely be brought out when everyone in the family is in one of those super cranky, weird moods. Like not Voldemort-level cranky, but somewhere in that neighborhood.
Are you officially in the mood to redo your entire household in the theme of Harry Potter? Here's a few more additions that will give you all the Hogwarts ~vibes.~
Why yes, this is a teapot dressed up like Harry Potter with a little Gryffindor scarf to boot. Cold winter nights just got so much more whimsical.
Sometimes you just need to be left alone in the kitchen. This apron does all the talking for you.
Baking will be much, much less tiresome with these Harry Potter-themed mixer decals. You would have fully aced Potions class.
Maybe people will be a whole lot more motivated to use coasters if they look exactly like the Marauder's Map. Mischief managed, indeed.
Here's to a home filled with all the magical Harry Potter things. Accio so much joy and whimsy.
We are a participant in the Amazon Services LLC Associates Program and may earn fees by linking to Amazon.com and affiliated sites.
This article was originally published on