I'm Addicted To Holiday Baking Shows, And I Make No Apologies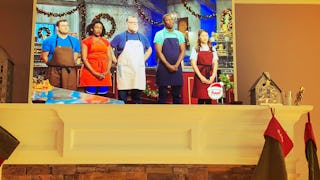 Christine Organ
I'm completely addicted to holiday baking shows. And I'm not even a little bit embarrassed about it. Because, quite frankly, holiday baking shows are the best thing about this time of the year. Holiday Baking Championship. Christmas Cookie Challenge. Sugar Rush. Nailed It. Great British Baking Show. You name it, I've watched it. And I've loved it.
First, I should note that I didn't always used to be into baking shows. Sure, I watched Emeril back in the day. I've seen a few episodes of Iron Chef, and I know who Pioneer Woman is. But I'm far from a cooking and baking show aficionado. In fact, I don't watch much television at all.
But holiday baking shows set themselves apart for a few reasons, and here's why:
1. Baked goods taste like a hug.
And yes, I know I'm not actually tasting the cookies, cakes, and tortes they are creating, but just thinking about that sugary, carb-heavy goodness is like a hug for the soul.
Simple carbs = happiness.
2. No one is trying to sell anyone anything.
I suspect some people will try to make the comparison of holiday baking shows to HGTV, but no. JUST NO. Instead of listening to folks complain about outdated countertops and the lack of shiplap, I would much rather watch someone spread fondant on a 3-foot tall cake and create a tiny family of lemon drop cookies.
3. We get to be kids again.
I mean, when else can we oooh and ahhh over cute and whimsical cookies that looked like Mrs. Claus?
4. Our kids get tons of inspiration.
Who knows, it might even inspire them to get in the kitchen and whip up a batch of sugar cookies. Probably not, but you never know.
5. Everyone is nice.
The contestants share ingredients and cheer each other on. When someone is eliminated, they are genuinely sad for them. Even the judges are kind with their critiques, and make sure to pepper in some positives with the negatives.
7. It's a delicious escape from the dumpster fire that is the world.
Sure, I could watch CNN and catch up on the latest political debacles. I could listen to commentators until my head feels like it might literally explode and I'm sobbing as a rock back and forth in the fetal position. Let's face it, the world is one giant dumpster fire. We don't need the constant reminder.
6. Holidays. Baked goods. Need I say more?
I mean, really. Holidays + baked goods = the perfect distraction.
Now if you'll excuse me, I have a DVR filled with holiday baking shows to catch up on. Because if someone can make a tiny village out of gingerbread, maybe everything will be okay.