Scary Mommy's Editors 2019 Holiday Gift Guide
by Team Scary Mommy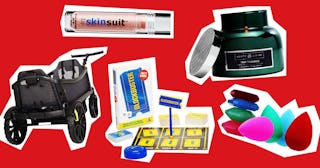 Scary Mommy
Yes, it's that time almost that time of year again. I know, and we're sorry, but we're here to help. Or maybe you are a Who from Who-ville and put your Christmas tree up the day after Halloween and can't wait to buy all the gifts. Either way, we've got you covered with some of our favorite things — from baby and kid gear, to self-care, to those everyday luxuries we just can't live without.
First up, for the littlest gift recipients on your list:
Buy this for every pregnant mom or new parent–because it is a damn dream. It's the perfect transition when you can't swaddle because they've started to roll, but still need that cozy comfort. They will look like an adorable starfish, and they won't be able to scratch their face off.
Literally everyone loves an Ergo, and this is their newest addition. Works for newborns without an insert, and grows with your child. Scary Mommy's managing editor, Samantha Angoletta, says "I keep an Ergo in my van, in my house, at my grandma's, and in my husband's car too. I want to have access to one at all times, especially with four kids."
Yes, this is a bit of a luxury, but it truly lasts forever and works in all situations. "I can pull my sleeping baby through Costco and still have room for a large haul. I can pull my toddler and my baby through the neighborhood for an afternoon walk or glide it through the sand at the beach. It's also a sports mom must-have. It's a place to sit, a place to eat, a place to nap, and has every accessory you could ever need–from comfort seat inserts to an infant car seat adapter. Huge bonus: It folds up and stores easily in the back of my van for all of our errands and adventure. As a busy mom of four, it's one of my favorite things." — Samantha Angoletta, Managing Editor
A fashion subscription box, but for kids? Genius! Insolito Kids sends you a fashion-forward box every quarter, for the trendiest tot on the block.
If you're looking for gear and activities to make family time more fun, whether you're heading out or staying in:
From the ball game to the beach, you'll be seriously impressed at the YETI Roadie's ability to keep your drinks ice-cold on the go … even if it's in the car for hours! Once you own one, you will be kicking yourself that you didn't buy one sooner.
This is basically a gift for the entire family. It will get everyone's attention, because it's such a unique, fun take on an old classic.
Nothing says "holiday nostalgia" like the SEGA Genesis Mini — it has 42 of your favorite classic games to school your kids in!
Go back to the '90s with this Blockbuster hit. I can't imagine anyone who wouldn't be excited to play this game. Seriously. Perfect for a gift swap too.
This supple leather wallet holds 10 cards without the bulk. You push a button, and they are at your immediate disposal. RFID blocking and trackable, it's a great gift for any techie.
If you're looking to spice things up, make sure that Romp makes in onto your holiday wish list. Romp blends luscious plant-based ingredients with hyaluronic acid for an incredibly slippery serum that feels like your body's own moisture.
Each piece of jewelry is handmade to help personalize any special event in your life like a birth, wedding, or anniversary.
This watch does it all — it offers GPS, you can play your favorite tunes, track your heart rate and change out the band. The hardest part is choosing the color. We love the rose gold though.
This camera is everything we love about the retro classic Polaroid (instant gratification!), but its modern features make sure that every shot is a great one. Don't want to print the pictures immediately? You can save them for later!
Pour some in your fave cocktail or use coffee syrup to give your favorite ice cream a boost. This can stand alone as a gift, or be part of a fun cocktail gift basket. Either way, we love it.
Drew and Jonathan Scott (AKA The Property Brothers) have launched their own home goods line, and we are rejoicing. These seriously soft chenille blankets feel like the most heavenly sweater you own … that's big enough to wrap around your entire body.
This has a cult following for a reason. You will never want to take it off, and that's a fact. A comfortable, relaxed fit and the softest material you've ever felt in your life. You can wear it comfortably when you're pregnant and postpartum too.
Not only is this snuggly blanket cozy AF, it has a freaking built in pocket for your feet to keep your toes toasty.
Another one from Drew and Jonathan! There's nothing like filling the air with a festive scent from a crackling flame, and this one's like Christmas in a jar. Seriously.
Beauty blenders are an absolute must have for anyone who wears makeup, and during the holidays you can grab this entire set for a killer deal. Plus, the gem-shaped cleansers can be used to clean your makeup brushes too. Win-win.
Once you try this, you will never be without it again. Instant relief for a tight neck and shoulders, without a harsh smell. You can find us using this in the pick-up line and the sidelines of yet another youth sports game.
You can't put a price on good skincare and these products not only make you look your best, they protect your skin too.
Part of self-care is staying hydrated — and whether you're chugging ice water or hot coffee, keep it the temperature it's supposed to be with Purist's line of leak-proof, metallic-taste-proof bottles. Choose the size and lid that best suits your needs, or (like us) take one of each.
These hit the boot trifecta — warm, comfy, and stylish. They almost make us excited about cold and rainy weather just so we can wear them.
These are perfect for the sports fan who doesn't want to scream sports fanatic. They are stylish and understated, featuring important plays that even the most avid sports fan with appreciate.
The holidays are no time to neglect your teeth, and electric toothbrushes are all the rage. Even better? This one is a subscription service that sense replacement brushes as needed.
These slippers are super soft and cozy, but sturdy enough that you can run outside to grab those holiday packages in them.
Whether you're looking for the right hostess gift or looking for something you can relax and enjoy yourself, searching for the right wine at the perfect price can be stressful. Wine is not supposed to be stressful! Thankfully, Whole Foods Market has a solution– the return of its annual Sommelier Best in Class Holiday Wines. Yes, Whole Foods has wine — and it's affordable! Their Master Sommelier has curated a list of perfect holiday wines — that start at $8.99 a bottle!
We love everything on this list, and we think you will too. And if you're looking to drop a hint about what you want this year, send this along to a family member, or tag your partner. This is isn't the time for subtlety.
Editors may receive samples and/or we may receive a share from purchases made via links on this page. All opinions are our own.
This article was originally published on