The #HolidayHelpers Hashtag Is Trending On Community FB Pages -- And It's Brilliant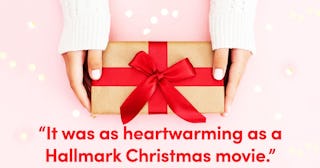 Scary Mommy and Kseniya Ovchinnikova/Getty
Almost every town has some sort of community Facebook page. You know the ones, designed to keep citizens up-to-date on happenings around town (and let's be real — an outlet for people to gossip and complain about stuff).
I was browsing the one from my small town the other day when, among the usual questions of "When is bulk trash pickup again?" and "Where's the best place to get a massage?" I spotted something absolutely brilliant:
Of course, there were the inevitable answers about world peace and a cure for cancer and those elusive things that, yes, Brenda, we know that everyfreakingbody wants. But there were more immediately-attainable wishes, too, both big and small.
One person posted that they would love to find a used bike for their grandson. Someone else asked for a dryer to replace theirs that had been broken since Thanksgiving. Someone needed clothing for their size 3T daughter. There were requests for job contacts, a TV stand, ugly Christmas sweaters for the elementary school's holiday theme week, and wooden pallets for a DIY craft project.
Peppered throughout the comment section were also plenty of posts from people who were simply showing up to see if they could assist: "I don't need/want anything, but hopefully someone will see this and post a want/need that I can help fulfill," and "I don't need anything, but I'll keep checking back to see if I can help!"
As the comments came in, so did the responses — neighbors helping neighbors, fulfilling needs left and right. I may have even gotten a bit teary-eyed, because it was as heartwarming as a Hallmark Christmas movie.
The most beautiful part of this whole thing? That #HolidayHelpers hashtag isn't limited to my own town's Facebook page. I searched for it, and much to my delight, I learned that this is a phenomenon that is gaining a lot of traction among community and neighborhood Facebook groups from all over the country. Whoever came up with it should qualify for sainthood. It's such a simple idea — but I can't think of anything that conveys the holiday spirit of selfless giving more perfectly.
I know all too well what it's like to struggle with finances during the holiday season, especially when you've got the added pressure of a family to create Christmas magic for. I spent years unable to do a lot for my kids on a regular day — let alone a gift-giving holiday — and something like this would have been a total blessing for a family like ours.
It doesn't seem like getting a used washing machine or a warmer coat would help make somebody's holiday brighter, but when you're in a tight spot financially, even a few bucks can be huge. Because if you don't have to spend $50 on a secondhand appliance, you can use it to ease the financial burden in another area — to buy groceries or put toward your electric bill or, even better, make a small wish come true for your kid. And the resulting stress relief is worth more than anyone who's not in that situation could ever fathom.
Just think: the unused stuff you're storing that you keep meaning to get rid of could make a huge difference for someone who needs it. If you don't have it, you may know of someone who does. Or you may be able to connect your Facebook friend who's looking for new employees at his workplace with someone who desperately needs a job. You never know when you might be the crucial link that could change someone's holiday — or even their entire life circumstance.
The movement behind this hashtag is comprised of simple gestures, but collectively, it can do big things. It takes such little effort to check it out and see how you can help someone this holiday season. I hope that everyone who's part of a community or neighborhood group will feel compelled to participate, because the things in your closet or garage, or the connections you have, can benefit someone in your own back yard.
This article was originally published on