Christmas Holiday Stressing Already? Hell No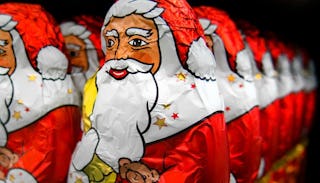 Robert Couse-Baker / Flickr / Creative Commons
I went to buy a pair of swim goggles yesterday. It's still summer, so surely this should not be a problem. After all, swim season is still in full swing, it's 99 degrees out, and days that don't darken until after 9 o'clock at night beckon for kids to be sporting bathing suits right up until their heads hit the pillow.
I didn't find goggles. I did, however, find a red and green gift bag full of anxiety — as in Christmas holiday season anxiety — slapping me right across my sunscreen-covered face.
Was I able to wander through aisles of sinking swim toys, lightning bug collectors, and sand shovels? Nope. Instead, in their place were shelves overflowing with composition books, washable markers, spiral notebooks, and shiny new lunch boxes.
And one aisle over from the back-to-school supplies? A clerk was stacking pumpkin-shaped trick-or-treat buckets on top of 12-foot branches of autumn leaves garland.
And behind her? I swear over a hand-carved Nativity set that another clerk was assembling an artificial Christmas tree.
What is happening?
We are over four months away from the man in the big red suit making his appearance, but already this mom is beginning to experience full-blown Christmas stress. And don't even think about visiting your local craft store. Last week it was a scene of patriotic red, white, and blue overload, and today it looks like the damn North Pole.
And Pinterest? I went to search for watermelon cocktails and was bombarded with Elf on the Shelf ideas — in July.
This is wrong on so many levels — so many.
Stop. Stop the holiday season train of terror because I don't want to get on yet — or ever.
It seems we no sooner deposit our kids back in school every fall that Christmas shopping season fires up instantly. Halloween is a now a mere blip on the calendar. Thanksgiving practically doesn't exist anymore. But Christmas? It arrives in September.
You mean by October 1 you're not done with your shopping yet? Shame on you. Sadly, by November 1 my entire December calendar is already filled with Christmas events, school plays, ornament, and cookie swaps, holiday office parties, and enough festive obligations to make Mrs. Claus wanna mix herself up a Xanax-spiked egg nog. I haven't even put away my beach toys and my neighbor is hanging lights from his roof. To make matters worse, last year on the day after Thanksgiving — the day after Thanksgiving — I got my first Christmas card in the mail.
I did some math. That means sometime in August that family got their shit together enough to find matching red and green sweaters, made an appointment, met with a photographer, posed for the perfect picture, picked them up, addressed dozens of envelopes, and got them in the mail before the third week of November. I'm still gathering required school supplies the third week November.
If you're anything like me, 95% of the Christmas to-do list falls directly in your lap. All of the shopping, cooking, preparing, planning, hosting — all of it — is taken care of by the mom. It's not so much that I resent having everything default to me, it's just that it's now defaulting to me way before I am ready — before anyone is ready.
The pressures to provide the perfect Christmas for my husband and kids, and the reality of making it all happen by the December 25, used to hit me around December 20. Now? While grilling hot dogs in the sweltering summer heat, I am mentally making a grocery list for a gingerbread house decorating party 18 weeks from now. Fuck that sugar-sprinkled stress cookie!
I'm gonna give myself a little pause this year. No, I take that back. Make that a big pause. I'm gonna process one season at a time, one month at a time, one freakin' holiday at a time.
I'm gonna suck on red, white, and blue popsicles with my kids until the very last second of summer and I refuse to look ahead at pumpkins, stockings, shelf-sitting elves, or anything else for that matter until I am damn well ready, and not one minute sooner.
I will be avoiding the mistletoe and wreath aisle like the plague until the mercury dips below at least 40 degrees, and I refuse to mentally generate or process any type of Christmas to-do list until I have packed up and put away all my pilgrims and kid-made handprint turkey placemats.
Stressing myself out way months before I need to? Not this year folks.
Moms, who's with me?
This article was originally published on