Supply Chain Issues Have Experts Saying To Do Holiday Shopping ASAP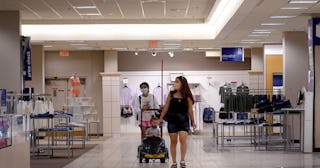 Scott Olson/Getty Images
Supply chain issues created by the pandemic have experts telling people to do their holiday shopping ASAP
If you've been ordering stuff online recently and noticing that it's taking forever for packages to arrive, you're not alone. COVID-related supply chain issues and a record-breaking cargo surge means that packages are being held up at loading docks all the way from China to the U.S. So if you're on the hunt for artificial Christmas trees, toys for gifts, and anything else for the holiday season, experts say to put your online orders in ASAP if you intend to open gifts on Christmas day.
The pandemic, labor shortages for truck drivers, difficulties with shipping, restrictions on travel and border crossings, and tricky trade agreements mean that the supply chain is all messed up — and that therefore means holiday shopping just got a lot tricker. Axios says it's going to be hard to get holiday gifts, but also staples like coffee and footwear, and this will likely persist until the Spring.
"The pandemic was a big factor because it caused a major disruption, everybody was clamoring for paper products, water, even cans of tuna. Then there were shutdowns and the pandemic affected labor. Fundamentally, we didn't know how to cope from a supply change issue," Simon Croon, a professor of supply chain management at the University of San Diego, told NBC News.
"It's a problem from the loading docks in China all the way to the retailers loading docks in the United States," Steve Pasierb, president and CEO of The Toy Association, told Good Morning America. "The biggest part of it being ocean shipping being extraordinarily expensive and taking much longer than it ever has."
In many ports, container ships are just sitting at the dock waiting to be unloaded for days — or even months — on end.
MGA Entertainment and Basic Fun, the toy distributors behind LOL Surprise! dolls, Little Tikes, Bratz dolls, Tonka trucks, Fisher-Price toys, and more told CNN that their toys will, unfortunately, be harder to find and more expensive this year.
So what does this mean for your Holiday shopping?
Start your online shopping now.
"Whatever becomes the hot toy of the season in the next month or two may not be there in huge quantities," Pasierb told GMA. "It's really the holiday season now, from Labor Day into early October, it's some of the best shopping, the best selection."
Good Morning America says that means NOT waiting for Black Friday sales. Just buy it now. Especially if you have your eye on something specific or something you want to buy online.
You can still shop brick and mortar if you're not picky.
If you'd rather browse a retail store in person, you can still do that. Stores will have products — it's more of an issue if you have your eye on something specific. But if you want to roll the dice and just see what Target has come November, go for it. Stores won't be desolate wastelands, but Jay Foreman, CEO of Basic Fun, told CNN that, "you're going to find various times during the holiday season where the store shelves are going to have empty holes in them."
Online shopping has edged out local ma and pa retailers because it's cheaper and more convenient, but with these new supply chain issues, the "convenience" aspect is moot, so why not shop your local boutiques and craft fairs for locally-made products this year? Your local artisans and small business owners will thank you.
The bottom line?
As Brittain Ladd, chief supply chain and marketing officer of Kuecker Pulse Integration (KPI), which helps companies like Amazon automate their supply chains, tells Axios. "I don't think they should put their hopes into the big toy or the big fashion item that could arrive. The attitude should be, 'Let's not be as picky as maybe we've been in the past few years. Let's be happy with what we can find.'"