15 Holiday Survival Items Every Mom Needs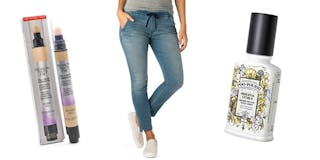 Walmart.com
Yes, the holidays are a magical time of year but also utterly exhausting for moms. That's why every mom needs a Holiday Survival Kit. Last year I was utterly flattened the day after Christmas, so this year I've vowed to do things differently. It starts with this list of sanity-saving items. Trust me when I tell you ordering these things now will save you time and money in the long run!
Trust us when we tell you that you NEED these Signature Women's Lounge Jogger by Levi Strauss & Co. pants that look enough like jeans to pass in the pick-up line — but are super stretchy because cookies are a thing that happens this time of year.
Sometimes mom needs noise canceling headphones just to hear herself THINK so she can get it all done in time. These Active Noise Cancelling Bluetooth Headphones are perfect because your kids will steal the cord anyway.
It's definitely time to stock up on Kleenex Lotion + Aloe Facial Tissues in bulk. You will need that soothing lotion in particular because plague season is coming and there will be some red noses that aren't on Rudolph.
If you need a killer red lippy that really does stay on all day no matter how many lattes you chug down as you run endless holiday errands, get you some Revlon ColorStay Overtime Lipcolor because it WORKS. And it has the ideal price point — less than $10!
Listen: you NEED Revlon Youth FX Blur & Fill Concealer in your life because it's literally the best concealer. Which is a must-have because you'll have hella eyebags thanks to insomnia caused by those 10 lattes you chugged during the day instead of eating.
Tired? Of course you are. You're a mom. Nothing wakes up tired eyes more than a bit of curl to your lash, and L'Oreal Paris Voluminous Lash Paradise Waterproof Mascara delivers. And there you go, you have all the makeup you will wear between now and December 26: lip, concealer, and mascara — BOOM.
Listen: these things are MAGIC. If you've overindulged in rich holiday food and feel all bloated and have an upset stomach, these Extra Strength Antacid & Anti-Gas Chewable Berry Tablets will fix you right up. Plus they taste kinda like a Starburst, so bonus. You'll be back to eating cookies in no time.
What happens to tape? Is it off dancing with the socks that vanish from the dryer? What do the kids even DO with all the tape? If you've got presents to wrap, you need more tape. So grab this four-pack of Scotch Magic Tape Dispenser Pack because you know it's sold out in the stores.
Or you can always say screw it, not wrapping a dang thing this Christmas. This Hallmark Holiday Gift Bag Assortment with a whopping 15 bags will give you plenty of pretty colors under the tree, and it won't matter if you can't find the damn tape AGAIN. Winning!
Why every single kid's toy needs a different size battery is a mystery for the ages. If you want to avoid disappointed faces when you can't find a 9Volt battery, get a couple of these Duracell Coppertop Batteries Assortment Packs. And pro tip: open the batteries before the presents because what kid can wait to play with a noisy toy at dawn on Christmas?
Cold winter air is murder on your skin, particularly if you do a lot of stuff outside. This Aveeno Skin Relief Moisturizing Lotion for Extra Dry Skin is a must have to survive the winter without having dry, irritated, and itchy skin. Lifesaver!
The other side effect of all that rich food you and the fam eat during the holidays? Smelly ass bathrooms. We don't know what sort of sorcery Poo-Pourri Royal Flush Custom Toilet Spray uses to make the bad smells stop, and we don't care. All we know is it works — and the kids actually use it because spray bottle + toilet = fun times. No, we don't know why. And honestly, we don't give a poop.
OMG, how cute are these fun Santa slippers? Fine, you don't need these to SURVIVE, but they are perfect for Christmas morning. Best of all, these Plush Warm Christmas Slippers come in an elf version for the kids. CUTENESS OVERLOAD.
Scissors are the second most common thing to vanish in a house with kids because they're always using them to destroy, er, we mean make things. This year, treat yourself to these Gingher Knife-Edge Bent Trimmers and then HIDE THEM so when it's time to wrap presents you actually have scissors to use.
We're not saying you need wine in your life to survive the holidays, but we ARE saying you need an insulated wine sippy cup. Keeps your white wine chilled beautifully and also kinda looks like you're drinking coffee, so these Insulated Wine Glasses are totes handy to have around.
So there you go, 15 things that will help you survive Christmas. LET'S DO THIS THING.
We are a participant in the Walmart.com Affiliate Program and may earn fees by linking to Walmart.com and affiliated sites.
This article was originally published on