Holiday Treats That Are (Almost) Too Pretty To Eat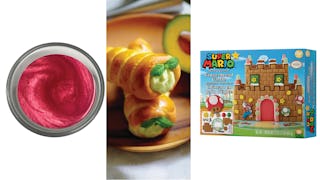 Images via Walmart
These pretty treats are literally eye candy.
Forget "ho, ho, ho!" Everyone knows the holidays are all about "nom, nom, nom!"
If you need a break from the holiday gluttony, these treats will make you actually pause for two seconds before you stuff your gob. Some things are (almost) too pretty to eat (stress on almost).
You probably know Mrs. Fields from the delicious smells emanating from their stores in bus stations. You've always resisted going inside. But it's the holidays, motherf—er, and this assortment is too pretty to pass up. In fact, you can have an inordinate amount of Mrs. Fields right in your own home: this decorative tin comes with 36 assorted cookies, 36 brownie bites, 4 hand-frosted cookies, and peppermint taffy. Dive in, and try not to drown!
The Starbucks Holiday Blend coffee and travel mug set is a perfect gift for on-the-go moms. It's also a great way to get through the holiday season. The coffee comes with sweet maple notes. Oh, and caffeine.
And you thought reaching the Mario castle at the end of each level couldn't get sweeter. You could eat the Super Mario gingerbread castle …but you're not going to want to after all the heart and soul you'll pour into building it! The DIY kit comes with icing, mushroom cookies, fondant, gum drops, gingerbread panels, and more. If you're not a Mario fan, there's Minions and My Little Pony.
If you're looking for a break from the sweets, that's too bad. There's more than a month until your New Years resolution. The Hickory Farms & Cheeses Gift Set, however, can offer some brief respite. The high-end sausage, cheese, crackers and mustard make for a gorgeous gift set array, and they'll remind you that picnic season is right around the corner.
If you love pretty food, but the thought of mixing chocolate and orange is an abomination to you, there's Brach's Milk Chocolate Caramel and Sea Salt Ball! Just like a chocolate orange, you wack it and unwrap it into gorgeous little slices. The only thing orange about this is the shape. It's as baffling as it is beautiful.
Did you ever think a buttery croissant could get more amazing? This stainless steel cone can help you make adorable swirly croissants. Wrap the dough around it, bake it, and voila! Incidentally, this bad boy is good for any cone-shaped food, including homemade ice cream cones or cream horns.
If you really want to blow your kids' minds, drop this Frozen advent calendar like you would a mic. Boom. Booya. Mom out. Don't forget to fill up the doors with chocolate coins first!
Transport yourself, or a lucky recipient, to Paris: the land of adorable cookies. This French-style sampler of 24 macarons includes flavors like strawberry, chocolate, coconut and more. They're so flippin' cute you'll wish you could hang them from a tree. Oh wait, here are macaron ornaments! You can truly have your cake and eat it too.
This holiday classic comes in a cute vintage tin. Dark and milk chocolate topped with crunchy peppermint sounds pretty good, but you could let the whole thing go stale on your shelf for several seasons, and the tin will still look pretty.
Available in red, silver, purple, fuschia, and more, Snowy River Cocktail Glitter will make your holiday cocktails swirl and shine. Made from water-soluble fruit and vegetable matter, cocktail glitter might be the most awesome addition to your holiday party – although your guests might think the punch was spiked.
We are a participant in the Walmart.com Affiliate Program and may earn fees by linking to Walmart.com and affiliated sites.
This article was originally published on