The First Trailer For Disney+'s 'Home Alone' Reboot Is Here
by Madison Vanderberg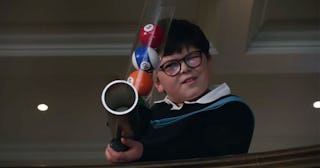 Disney+
The trailer for the Home Alone re-imagining Home Sweet Home Alone is here
Home Alone has been my holiday comfort-watch staple for years. Year after year I put that movie on sometime around December 1st to usher in the ~holiday szn~, so when I heard that Disney Plus had rebooted the classic Christmas romp, I leaned all the way in. **I'm listening…**
"Twas the night before Christmas vacation and the fun was in full swing. The family left for their family vacation, but forgot one little thing…" the trailer begins.
Home Sweet Home Alone takes the familiar set-up (kid is left at home during the holidays while his family is overseas on vacation), but in this version, the kid is British (not Chicagoan), the family vacation destination is Tokyo (not Paris), and the burglars are the always adorable Ellie Kemper and Rob Delaney (not scary goons Joe Pesci and Daniel Stern).
Is it like the Home Alone you remember? Nor really. Will the British accents throw you off? Sure, but I'm rolling with it. Will I watch the hell out of this film when it lands on Disney Plus? You're damn right.
Also, Home Alone isn't quite the same without the brilliant Pesci as a bumbling but terrifying burglar, but it's still quite good actually because where Pesci was scary, Kemper and Delaney as a husband and wife home invasion team attempting to retrieve a priceless heirloom are funny and got the jokes. "I can't go to jail, honey. I wouldn't last 30 seconds in gen pop. That's where fresh fish get got," cries Delaney's sweet burglar. To which Kemper responds, through gritted teeth, "Nobody here is getting got!"
Archie Yates stars as the precocious Max Mercer, who — unlike Macaulay Culkin's Kevin McCallister — is quite literally ready for the home invasion when his parents head to Japan without him.
Also, Aisling Bea as Mercer's mom channels the spirit of Catherine O'Hara well as she pleads with the airline attendant to get her back home ASAP. Kenan Thompson, Tim Simons, Pete Holmes, Devin Ratray, Ally Maki, and Chris Parnell round out the cast.
And for those curmudgeons shaking their fists at the sky claiming there was no need to reboot Home Alone, **uhm actually** there are five (five!) installments in the Home Alone franchise. This movie was made to be rebooted although most fans checked out of the franchise after the second one (Home Alone: Lost In New York), because that's when Culkin stopped starring in the series.
However, there is one hat-tip to the original flick and that's mean cousin Buzz McCallister (played by actor Devin Ratray) who returns to play a cop.
Home Sweet Home Alone premieres November 12, 2021, exclusively on Disney+.