People Are Completely Obsessed With These Home Decor Products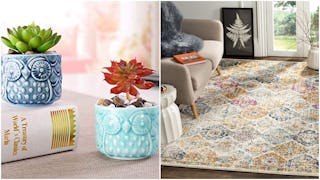 Image via Amazon
These home decor products are flying off of Amazon's virtual shelves
In the mood to do some redecorating? Head straight to Amazon, where you can find all of the bestselling curtains, rugs, lighting, and home accents that people are currently obsessed with. Because online shopping is endlessly tricky and it never hurts to get someone else's seal of approval.
Spring is finally, finally here and these bright, cheery pillow covers are the perfect way to celebrate. They come in a set of four and feature watercolor designs that will put you in the perfect warm weather mood.
Speaking of bright and cheery, this bestselling area rug will deliver all of that springtime joy. It comes in multiple colors and sizes and will add a whole lot of pop to any room.
This wireless, rechargeable light comes with three brightness settings, can be clipped to your book, and is super flexible. Bring on all of the bedtime reading.
Sometimes your home just needs some extra magic in the form of very pretty, very twinkly string lights.
These floating shelves are painted in deep espresso finish, come with all the necessary hardware, and are super durable. Also, they'll help your home feel so, so much more organized.
Your succulents are already pretty cute. Take them to next-level cute with these bight, adorable succulent holders. They come in six pieces and you can snag them in all different shapes and sizes including owls, elephants, and corgis.
Bring on all of the rustic charm with this flower holder. Do you officially live in the French countryside now? Pretty much.
These ultra popular candles will bring a warm glow to your home. The frosted jar is see-through, the wax is made from natural soy, and it smells like lemongrass eucalyptus. Yum, yum, yum.
You just might want to consider snagging one of Amazon's most popular fleece blankets. It's ridiculously soft, comes with glowing reviews, and is perfect for a breezy spring night.
Add some pretty pink charm to your kid's room with this musical jewelry box. It's so cheerful, so bright, and yes, it's totally okay if you want something similar for yourself.
Tired of the sun waking you up every single morning? These blackout curtains put in the work (and they're noise reducing!) Hellooo, better sleep.
Three cheers for a warm, snuggly, extra cute home. Bring on allll of the owl-shaped succulent pots.
We may earn fees from purchases made via links on this page and affiliated sites. All opinions are our own.
This article was originally published on