Dog Showers Are The Home Upgrade Every Pet Parent Needs
by Christina Marfice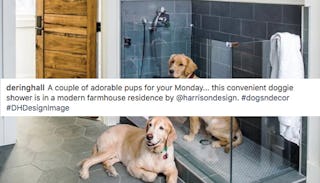 Image via Instagram/Dering Hall
The rising demand for houses with dog showers makes total sense, TBH
Think back to the last time you tried to give your dog a bath. Unless you have some kind of perfect angel unicorn dog, I'm going to assume it wasn't the best time.
RELATED: Best Drying Racks That Can Handle Your Endless Loads Of Laundry
Fido probably splashed all over the edges of the tub, getting suds on the floor and hair on the walls. He probably escaped at least once, leaping free from the tub sopping wet and shaking off, soaking you, the walls, the counters, the floor — probably even the ceiling. The ideal dog washing situation is in the backyard with the hose so the damage can be limited, but for anyone who doesn't live near the equator, there are going to be times of the year when the bathroom is the only option.
There has to be a better way, right?
Right. Dog showers exist, and they're a rising trend in home design. Anyone who's tried to wrestle a water-phobic large breed in a slippery tub knows exactly why.
A trend piece in the New York Times first pointed out the growing demand for designated dog showers, and then TODAY investigated further, asking architect William Harrison, whose firm, Harrison Design, has been adding dog showers to clients' homes for years.
"In the beginning, some clients asked us to design a shower with a higher platform so they could more comfortably wash their dog," he said. "Now it's morphed into a highly desired feature."
It's a trend so popular, even the designers are joining in. Interior designer Hannah Crowell told TODAY she's designed dog showers for clients, and loved the idea so much, she's adding one to her own home.
"I am almost more excited about the dog shower than I am about my own bathroom," she said. Crowell added that her two retrievers love digging holes, so the idea of a dog shower was immediately appealing to her. "I would much rather bathe them in a designated dog shower than have them track mud all through the home."
And she's also thinking ahead to when she might sell her home, dog shower and all, and whether that could hurt her bottom line if prospective buyers aren't dog owners.
"I truly think that a dog shower only adds to the value of the home," she said. "Even if you don't have pets, a dog shower can be used for many other practical uses, like rinsing off dirty kids or muddy boots, and are great for easy cleanup from messy craft projects."
Can you imagine not only never having to wrestle your dog into the bathtub again, but also containing glitter to one easily cleaned area of the house during craft time? The benefits truly are endless.
This article was originally published on