#HomeToVote Shows Crowds Of Irish Returning Home To Vote On Abortion
by Christina Marfice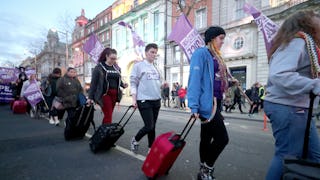 Image via Niall Carson/PA Images via Getty Images
History could be made in Ireland with today's vote on a constitutional abortion ban
When you think of countries that fully outlaw abortion, Ireland probably doesn't spring immediately to mind. Unbeknownst to many outside of the Emerald Isle, Ireland's constitution bans all abortions, including in cases of rape, incest, fetal abnormality and life-threatening danger to the mother. But that could all change today.
Ireland is holding a historic vote today — the first in 35 years — on whether to repeal Amendment 8 of its constitution, the amendment that bans all abortions. And on Twitter, the hashtag #HomeToVote has been trending for days as Irish people living abroad return home in droves to take part in the vote.
Many of the people traveling back to Ireland to make their voices heard compared their journey to the journeys Irish women are forced to take out of their country if they want or need an abortion.
And many have been encouraged by seeing others traveling for the very same reason.
While the United Nations Human Rights committee has long called for a repeal of Ireland's 8th Amendment, the results are certainly not guaranteed. Polling ahead of today's vote showed 20 percent of voters were undecided — more than enough to overtake the narrowing gap between "Yes" voters and "No" voters. The tweets showed plenty of people going home to cast their votes to keep the current laws in place, too.
But many others consider their repeal votes to be for human rights, equal access to health care and body autonomy.
If the majority of Ireland votes not to repeal, the law will stay in place and likely nothing will change any time soon — Irish Prime Minister Leo Varadkar called today's vote a "once-in-a-generation decision." Even if the majority votes to repeal the amendment, nothing will change immediately — lawmakers will first have to create a new set of laws around abortion. According to the Washington Post, many prominent lawmakers and the Prime Minister support a repeal of the amendment, and new laws that have been floated ahead of the vote that would allow abortions up to 12 weeks of pregnancy.
No matter what Ireland decides today, it's a proud day for its citizens, who are making every effort they can to be a part of this vote. That's what's truly heartwarming and inspiring about #HomeToVote.
This article was originally published on