Children's Museum Throws Free Birthday Parties For Kids Experiencing Homelessness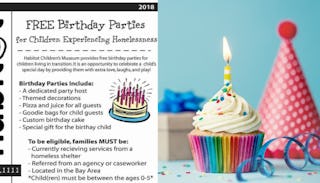 Image via Habitot/Istock/Getty Images
Kids experiencing homelessness deserve birthday parties, too. Here's how they can have them
There are so many difficulties kids experiencing homelessness face that the average person probably doesn't even consider. It's easy to focus on immediate needs, like food, shelter, clothing, and safety. But what about the things kids need to just be kids? Kids without a permanent place to live deserve a childhood, too.
That's why what Berkeley, California's Habitot Children's Museum is doing is truly amazing. Families experiencing homelessness can be referred to the museum to have a free birthday party hosted for their kids, including pizza, favors, decorations, a customized cake and a dedicated party host.
"Habitot the only East Bay organization providing this memorable childhood experience to homeless children and their families," their website reads. "Since launching Birthday Parties for Homeless Children 2014, Habitot has hosted 36 birthday parties with 648 attendees. We always have more families who ask than we have resources to support."
Imagine what it must be like to be a kid experiencing homelessness. These kids go to school and have friends, so they see birthday parties being thrown. It must be heartbreaking not to be able to have their own parties. No, a birthday party probably isn't a super high priority for a family struggling with homelessness, but this is such a small thing that has the potential to bring joy to so many kids.
And even though Habitot is only serving the Bay Area, there are options for kids nationwide, like The Birthday Party Project, a nonprofit that mobilizes volunteers to throw birthday parties in shelters and transitional homes. Kids deserve to be kids, even if their circumstances make that tough.
Because there are more homeless kids in the U.S. than many people realize. There's no national reporting agency that's keeping track of the total number, but the National Center for Education Statistics keeps track of how many kids enrolled in public schools are experiencing homelessness. In 2016, that was 3 percent of all enrolled students, or more than 1.2 million kids nationwide. It's heartbreaking how pervasive this problem actually is, especially once you consider that that's only the number of homeless kids who are enrolled in schools, and the actual number (including students who drop out, migrant kids and more) is even higher than that.
Every kid deserves a warm bed, hot meals and a stable home. But if they have to go without, at least we can give them a birthday party, and a chance to enjoy just being a kid — because you only get one childhood.
If you want to help, you can donate to Habitot here, and donate to The Birthday Party Project here.
This article was originally published on