Girl Scout Troop For Homeless Girls In NYC Holds First-Ever Cookie Sale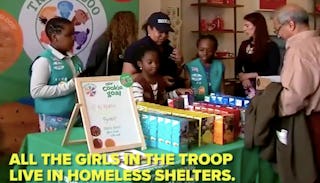 Image via ABC News
Troop 6000 is selling thousands of cookie boxes
Buying Girl Scout cookies is always a good idea, but now your order can help a troop of girls living in homeless shelters in New York. Troop 6000 was established in 2017 and is made up of girls in the New York City Shelter System.
"I wasn't expecting [becoming homeless] to ever happen to me," Karina told Refinery29. The 12-year-old is one of the founding members of Troop 6000. "You hear about it, you see people that live on the streets, but you wouldn't think an actual homeless person would look like me or all the other beautiful girls around here."
Karina and fellow troop members set a huge goal of cookie boxes to sell this year: 6,000. And the best news is they already hit their goal. As news spread about these hardworking gals boxes and boxes sold. But you can still help – and score some Thin Mints – by buying cookies from their troop online. The inspiring troop of girls has breezed pass their goal and continue to sell thousands of cookie boxes.
Troop 6000 is expanding in hopes of serving 500 girls and women across 15 sites in New York this year. Most of the girls in the troop live in a hotel that operates as a shelter in Long Island City, Queens and other shelters, according to The Girl Scouts of Greater New York. "It was kinda scary," Karina said of living in a shelter. "I was 11 at the time. It was boring there, you had nothing to do but go in your room. You couldn't stay out past 9 p.m. So it was scary."
It's hard to imagine the stress these girls deal with on a daily basis. While I always had a roof over my head, my childhood was far from ideal, and I distinctly remember the role Girl Scouts played. It's an escape from home, a fun time to see your friends, and a chance to learn and grow.
"Every girl in the five boroughs of New York City deserves a chance to reach her full potential: to have her eyes opened to possibilities for college and careers, to make loving and supportive friends, to learn from caring female mentors, and to chart her own course to achieve her goals," explained The Girl Scouts of Greater New York.
"Girl Scouts has taught me I can be whoever I want to be, no matter what age, what gender," Karina shared. "I can be whatever what I want to be. I don't have to be a boy [to do that], I can be a girl."
If you're not in need of more sweets, you can also make a donation to the troop here.