Bullies Mocked A Boy's Homemade College T-Shirt -- Now, It's An Official Design
by Christina Marfice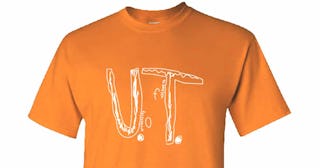 University of Tennessee
The University of Tennessee can hardly make these shirts fast enough to keep up with demand
It all start on an elementary school's "College Colors Day," when kids were encouraged to wear apparel from their favorite schools and teams. A boy at the Florida elementary school loved the University of Tennessee, but he didn't own any of their gear, so he decided to take matters into his own hands. He drew their "UT" logo on a sheet of paper and stuck it on a bright orange shirt.
"When the day finally arrived, he was SO EXCITED to show me his shirt," his teacher, Laura Snyder, wrote on Facebook. "I was impressed that he took it one step further to make his own label."
But by lunch time, the creative kid was in tears, Snyder wrote. Some girls at the table next to his had made fun of his sign.
"I know kids can be cruel, I am aware that it's not the fanciest sign, BUT this kid used the resources he had available to him to participate in a spirit day," she wrote.
Then Snyder's post went viral, and people started responding. The boy (who still hasn't been named online) was gifted tons of Tennessee gear from people in the community. And word eventually got back to people at the University of Tennessee, who were quick to put together a care package not just for their little fan, but with enough swag and gear for him to hand out to his entire class.
"My student was so amazed at all the goodies in the box," Snyder wrote. "He proudly put on the jersey and one of the many hats in the box. All who saw had either goosebumps or tears while we explained that he had inspired and touched the lives of so many people."
What's even better is that the school took that hand-drawn design the little boy had made and they turned it into an official Tennessee t-shirt design. You can now buy a shirt designed after his hand-drawn version in the official Vol Shop, and a portion of the proceeds from each sale go to Stomp Out Bullying, an organization that's helping stop bullying in schools.
Demand for the shirt has been so high that the school's store website actually crashed for a while from all the new traffic. If you want to get your hands on one of these adorable shirts, you should probably do it very soon.