We Need To Give Homeschooling Parents More Credit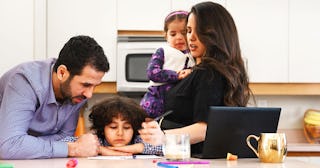 lisegagne/Getty
"Homeschooling is so hard," "I drink because I homeschool," and "homeschool life is no joke," are just a few of the comments I've read and heard since the start of the coronavirus pandemic and remote-learning. Parents who used to criticize homeschoolers are getting a taste of how truly incredible homeschooling families are—and have been for years.
I've homeschooled my kids off and on for six years. It started with my second kiddo, who had one of those interesting birthdays where she was too young to start kindergarten by the birthday cut-off. Instead of trying to find her a transitional kindergarten class, which is hard to come by, I opted to homeschool her, teaching her all the kindergarten skills the year before she started. I then homeschooled my then third-grader for several months after an epically terrible public school experience. Then, there's now. I'm currently homeschooling my fourth child, who also has a not-quite-making-the-cutoff pre-kindergarten birthday.
Each time I opted to homeschool, I was met with a mix of skepticism, awe, and doubt. "I could never do that," a few friends confessed, projecting their insecurities. I joked that just because we were homeschooling, it didn't mean my children would end up being social outcasts, and I certainly wouldn't be wearing a long skirt and churning butter. But hey, if that's your vibe, you do you.
Homeschooling has so many benefits, but I don't want to launch into those without recognizing that opting to homeschool is a privilege. Homeschooling takes a lot of sacrifice, including time, energy, and money. I acknowledge that opting to homeschool isn't something everyone can do, even if they want to. There's a lot of factors that go into homeschooling—or not.
Homeschooling turned out to be incredibly rewarding for my family. When one child was struggling immensely in public school, homeschooling provided us with the opportunity to reconnect. My child's confidence went from non-existent to soaring. We had time for amazing field trips, like visiting our locally owned coffee company and learning how beans are shipped and roasted. This turned into a research report on the environment, manufacturing, and marketing.
It wasn't just about academics. Not even close. My child was relieved of being packed in an overcrowded, loud, classroom. Instead, our learning was something out of a movie. Think jazz music in the background, sitting in the sunlight at the kitchen table, going at our own pace. My child learned to love learning again, to be curious, and to feel secure.
Eventually, my kids have made transitions back into private or public school. Then, the pandemic hit, and all the sudden, parents, whether they wanted to or not, were thrust into remote-learning. Some mistakenly referred to themselves as homeschoolers, though there certainly are commonalities between homeschooling and remote learning.
All of the sudden, the criticism I remember reading and hearing was non-existent. In fact, those who swore that homeschooling was "weird" (to put it kindly) were singing the praises of homeschoolers. How do we do it, and do it well?
Being "stuck at home" all of the time, navigating tech issues, trying to stay organized, scrambling to find the right materials, and keeping track of multiple kids' schedules and curriculums is downright exhausting. The pandemic has shown us all of the discrepancies, flaws, and holes in the education system—which is certainly not the fault of individual teachers. The gaps, inconsistencies, and glitches are glaringly obvious, and parents are waking up to them now that they are essentially in charge of their children's educations.
Homeschooling is no longer the choice of hippie parents who "don't trust the system," but a collective educational adventure that many have been thrown into with no preparation, no warning, and certainly no roadmap. Arguably, homeschooling is easier than remote learning, since as a homeschooler, I don't have to follow another system, pace, or teacher's plans for my child. I can do what works for us. Remote learning is two adults, the teacher and the parent, trying to help a child learn. When more "hands are in the pot," it is going to be more complicated and difficult.
Just as our public and private school teachers deserve some serious praise for how well they've helped children during this unprecedented time, homeschooling parents who have been doing this learning-at-home gig for some time deserve to be seen for who they really are. Instead of being stereotyped as introverts who refuse to live in the "real world," homeschooling parents are diverse, hardworking, intuitive, and very creative.
Remote learning parents are getting a taste of the homeschool life as they help their children navigate getting educated from home, via technology. It's arduous work. Not only do I have a child I'm homeschooling, but also a child who is remote learning, and two children who are learning in-person. This experience has taught me to appreciate the variability and the many adults who are working diligently to make sure that children are still learning even though the pandemic rages on.
There is no right or wrong way to school a child. Every situation is different. Children have different needs and abilities and not everyone has the same options. We're all just doing our absolute best, and I think we're in a season where homeschooling parents are being recognized for who they are, rather than who they were stereotyped to be—thankfully.
This article was originally published on