Honest Company Issues Voluntary Recall Of Baby Wipes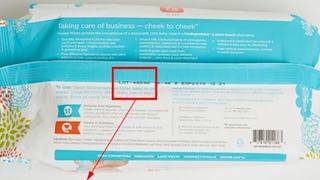 Image via Honest Company
Honest Company is recalling baby wipes over possible mold issue
The Honest Company, purveyors of non-toxic baby and personal care products, is issuing a voluntary recall of their baby wipes due to concerns of a possible mold issue.
The company, owned by celebrity mom Jessica Alba, is being proactive in recalling their baby wipes distributed in the U.S. and Canada "out of an abundance of caution." The recall information page on their website reads, "Certain lots of these wipes are being voluntarily recalled due to the possible presence of mold. We believe the affected product is not likely to cause adverse health consequences, however, impacted wipes do have a spotted discoloration and the aesthetics are unacceptable."
Company co-founder Christopher Gavigan explained the details in a video posted to their website. He notes that the mold identified on the wipes can be found on citrus plants and isn't believed to cause harm to humans.
Here are the lots being recalled:
10 count packages, UPC 0817810011276, 0816645024079, 0817810011276
72 count packages, UPC 0817810011863, 7000000011863, 0816645023584, 0816645023591
288 count packages, UPC 0817810014680
576 count packages, UPC 0817810028540
Honest Company stresses that it's not just stand-alone packages of wipes that are affected, but also, wipes included in Honest Diaper Cakes, Baby Basics Gift Set and Baby Arrival Gift Set.
A baby product recall is definitely a bummer, but there's good news with this one. As the notice reads, the affected product probably won't cause health issues, and Honest Company is making it pretty brainless and painless to get contaminated wipes dealt with. You can enter the lot number on this page to find out if you need to return your wipes to their point of purchase for a full refund.
You can find the lot number on the back of the package:
This isn't the first time Honest Company has dealt with a recall of one of its baby products, but their proactive approach is definitely impressive. When it comes to items we use on our kids, we want to trust whoever makes and sells them. Mistakes happen, but it's how a company handles the fallout that matters most.
If you have any questions about the recall, you can reach Honest Company at 888-862-8818 Monday-Friday, 5AM to 5PM Pacific time.
This article was originally published on