What Honest, Unfiltered Mom Selfies Look Like
by Britt Burbank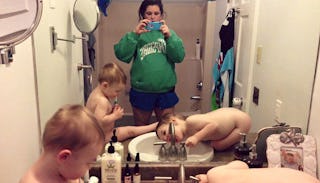 I get it. You put on makeup. You took a shower. You wrestled your body into some type of Spanx-like undergarment. (Side note: Who is actually able to pee out of the hole in the bottom of the bodysuit ones? That's some serious skill!) Long story short, you've got your mom A game on.
Maybe you are going to a wedding. Maybe it's date night. Either way, it's a fun night out.
So first, let me take a selfie.
Don't get me wrong. It's no 25-year-old Brittany taking pictures of her new bling, dog/sidekick, or new bathing suit.
Ugh, look at this girl. I bet she got 11 hours of sleep last night—just 'cause she felt like it. That bitch.
But you did shower, and you have a babysitter. So let's Instagram that crap up. Congratulate yourself for not looking like a troll who guards a bridge for once (oh, the joys of motherhood).
This got me wondering what social media would be like if you didn't just show a highlight reel of yourself and moms instead posted what they were honestly doing during their day.
So I figured, for fun, I'd share what motherhood would really look like if every selfie were honest.
OK, Here we go:
Good morning, 5 a.m.
#sexyhair #nicenightgownNana
Let's feed the beasts.
Oh wait, they don't want to eat but insist on feeding you. (If you just thought, OMG she just called her kids beasts, don't be so quick to judge. Come watch my kids eat and then pick a descriptive pet name for them. OK, beasts it is.)
#aintnobodygottimeforthat
Don't worry about hashtags such as #nofilter and #nomakeup. People will figure it out on their own.
#oldmanbaby
You have to go to work?!
#whateverworks
Or you have to accomplish an errand?
#wallofHOTTIES
Who knows what's in store for you! Either way, pull those control tops up and have a good day.
#ohmylanta
Just know that personal space is not a part of your life anymore. The sooner you accept that, the better.
#helpme
Everyone would be sleeping except you.
#tomorrowwillsuck
There would be victory selfies.
#napbattle
And pediatrician selfies.
#waitingforever
Selfies where you wear a coat inside because you'd rather sweat to death than wake your teething serpent.
#DONTmove
People throw food at you. They will laugh. Then you will laugh.
#delicious
The first time you have to get dressed up for a lady party post-baby, you're sending pics to your sisters like: "Does this look OK? Do I pass for an adult woman?"
#WhoaMama
There would be selfies where you're wearing strange clothing….
that don't match.
#colorblindgymteacher
Someone would always be crying…
and nobody would be sharing.
I call this one: Friday Night!
#CLUBtubbytime
Fun with cows on field trips.
#cowsaysMOO
Panic time when you look at your hair and you need to be leaving in 5 minutes!
#prayer
Glad I can turn EXHIBIT A into EXHIBIT B in 10 minutes.
At this point, it's basically a fire drill.
#sorcery
Or, even better, happy as a clam that I am sitting in the cell phone lot at the airport, drinking coffee, and reading my book—a whole 40 minutes of no one invading my personal space.
#preciousalonetime
Any mom out there with boogers on your jacket, just know that you are not alone. Just remember for every filtered, perfect picture, that mom has also been peed on.
#somebodysmother
This article was originally published on