Honey Maid Did It Again: Their New Commercials Will Give You All The Feels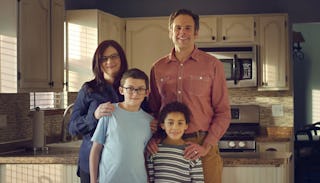 Credit: Honey Maid
Honey Maid's latest campaign is all about acceptance
If you've got kids in the house then you're probably very familiar with the deliciousness that is Honey Maid. But the graham cracker company is good at doing more than destroying your plans to avoid carbs. Honey Maid's commercials have been making parents sob happy tears for years, and their latest ads are no exception.
In the third year of the "This Is Wholesome" campaign, the brand released four new commercials, each featuring a family whose lives have been changed by the idea of acceptance. "We think it is important to be reflective of today's world, and to be inclusive of a cross-section of those unique families that make up the American society," a representative for Honey Maid told Scary Mommy. "We are recognizing the changing family dynamic among our consumers and are excited about the opportunity for 'This is Wholesome' to feature and celebrate real diverse families."
All of the new spots are worth a watch: one takes on Islamophobia, one highlights adoptive families, one shares a veteran's story, one shows a family with same sex parents. The campaign seeks to show that "No matter how things change, what makes us wholesome never will."
In other words – do not watch them while wearing mascara, unless 'puffy raccoon' is a look that works for you.
Honey Maid is no stranger to proudly showcasing American families in all forms. When protesters descended on the company like a hive of angry bees after their first commercial featuring a same sex couple aired, Honey Maid's response was both bad ass and beautiful. They printed out all of the comments the ad received, both negative and positive, and commissioned two artists to create a love sculpture showing how the positive messages outnumbered the negative ones 10 to 1.
Sure, at the end of the day Honey Maid is a company and these commercials are designed to make you want to buy their deliciously addictive graham crackers the next time you want to make s'mores. But in a world where CG hamsters sell cars to techno music, even the most cynical among us has to give props to Honey Maid for acknowledging that the "one mom, one dad, two kids and a dog" family model is grossly outdated. When it comes to families, nontraditional is the new traditional. These real life families featured in Honey Maid's ads serve as proof.
Pass the tissues, and the Teddy Grahams.