'Hoods To Woods' Takes Inner City Kids Snowboarding All Winter -- For Free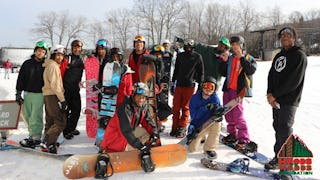 Image via Virginia Soledad / Hoods to Woods
Hoods to Woods gives inner city kids a chance to get outside and experience snowboarding for the first time
For kids who live in the city, opportunities to experience the outdoors can be few and far between. Nonprofit Hoods to Woods is trying to fix that.
The organization plans to take 40 kids from New York snowboarding this winter. It will cover transportation, food, gear, lessons, and insurance — and the kids and their families won't have to pay a dime. The kids just get to go out on a mountain and have an amazing time trying a new sport. Since snowboarding requires lift tickets and a ton of gear, it's prohibitively expensive for a lot of families, so this work is definitely important.
Visual artist Brian Paupaw and financial auditor Omar Diaz co-founded Hoods to Woods in 2009, and it's been growing steadily ever since.
"We started out with four kids in 2009 and now we take 40 kids out every winter," Paupaw told Scary Mommy. "The trips are not overnight stays, just day trips to Big Boulder resort in Pennsylvania. We run 5 trips for the entire winter on Saturdays."
Paupaw was inspired to start the foundation when he fell in love with snowboarding and wanted to give kids who'd never done it a chance to fall in love with it, too.
"What inspired me to start the organization was a trip I took to Mt. Baker, Washington, in 2001," he said. "There I lived in a log cabin for an entire month. It was my first time snowboarding in a national state park. It was a humbling experience. When I got home I realized that I had to share my passion with the community."
The kids who go on the trips range in age from about 11 to 19, Paupaw said. None of them have ever been snowboarding before, but many of them end up going back after getting their first taste of the sport through Hoods to Woods. Paupaw said some of the older kids who participated in the program now help teach younger kids on their first trips. Each kid has the opportunity to go snowboarding five times over the course of one winter, so they can develop some real skills.
The cost per kid each winter is about $2,400, Paupaw said. That covers all their transportation, lift tickets, gear, food and more, and Hoods to Woods covers the entire cost — families are never expected to pay. You can donate on Facebook to help some kids start snowboarding this winter.