Mom Launches Clothing Line For Her Daughter And Others Born With Special Needs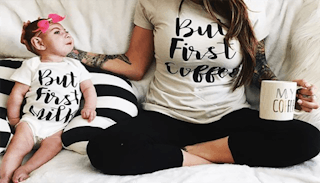 This mother-daughter duo will inspire everyone to do more
After struggling with infertility for years, when Katie Scott and her husband Bobby were just a couple months pregnant, they learned their baby may have a devastating medical condition. Doctors at the time could not give a definitive answer as to what the outcome would be for their daughter, so they carried her to term, hopeful she would be born without complication.
Harlow Jean was born in October 2016 and unfortunately, the news was not what they'd hoped. Their gorgeous baby girl was born with lissencephaly (a rare genetic disorder in which a baby's brain is smooth and doesn't develop folds, impacting neural function and mental development), microcephaly, hydrocephalus, epilepsy and partial blindness in both eyes.
https://www.instagram.com/p/BNcb-rwB_0l/?taken-by=hopeforharlow
While there is no cure for Harlow's condition, there are treatment options that can help. Based on her diagnosis she will forever need around the clock care, takes multiple medications each day and has many doctor and therapy appointments every single week. All of this comes at a great emotional and financial expense.
Because Katie could no longer work, she decided to start selling T-shirts on Etsy to make some extra money. That is when Hope for Harlow was born. With its success, less than a year later Katie's Hope for Harlow collection has moved off Etsy and expanded to include jewelry, burp cloths, baby bows and headbands, and sibling T-shirts.
She also has a collection of women's T-shirts and sweatshirts with slogans like "Tired as a mother," "Every great mom says the 'F' word," and "I'll eat you up I love you so," inspired by Where The Wild Things Are.
In addition to the emotional and physical toll of caring for a sick child, Katie and Bobby spend hours each week planning meals (Harlow is on a ketogenic diet), working, attend doctor's appointments and managing the minutiae that comes with raising a child. After all that, Katie also started making T-shirts to honor other special needs children, with 50 percent of her proceeds going toward their families to help with similar expenses.
https://www.instagram.com/p/BUhPzmcFnzN/?taken-by=hopeforharlow
This woman is a true hero in every sense of the word.
Katie tells Scary Mommy she's learned through all this is, "Be humbled. Life is truly a gift and we always assume we will have a tomorrow." And though she can only look a day ahead for her baby girl, she says, "Every doctor manages to tell me what Harlow won't be able to do in her life and every time I shake it off and ignore it because no one can tell Harlow what she can or can't do, that's for her to decide. I'll help her every step of the way."
If you are able to donate to Harlow's journey, please do so here. Every single dollar helps.
This article was originally published on