Make Your Whole Neighborhood Uncomfortable With These Horny Skeletons
by Madison Vanderberg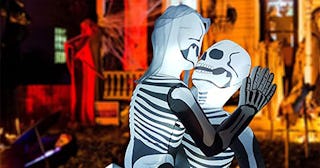 Amazon
Skeletons straddling each other is a real Halloween lawn inflatable you can buy this year on Amazon
This Halloween, forget about your usual lawn inflatables like ghosts, pumpkins, and witches — terrify your neighbors this month with a blow-up lawn decoration of two skeletons getting it on! "The kids will love it!" — nobody.
The $76 inflatable lawn decor stands at 5.5 feet and comes with LED lights built inside and shows a lady skeleton (we're supposed to know she's a lady because she has gauzy wisps coming from her head, like hair) straddling her skeleton lover. It's horny! It's doing the absolute most! It's gonna result in a whole lotta "Yikes" from your neighbors!
The randy dead couple comes from a company called GOOSH and I'm not sure who wrote the item's description on Amazon, but according to the manufacturer, the official description for this item is: "The Skeleton Couple made children's love at first sight." Huh? Sure? At the very least, "the Skeleton Couple inflatable is made of high strength waterproof polyester, which is against rips and tears, the excellent stitching improves the durability of the inflatable decoration." Well, at least we know that the two skeletons banging it out will last forever, because they are a) dead and b) made from high-quality materials.
Not surprisingly, some people hated it.
"This product is suggestive and vulgar. Its association with a holiday that centers around children is offensive beyond measure," said one, totally horrified, Amazon reviewer.
However, other people really loved it, like one user who simply said it "Blows up super fast."
One reviewer even said, "My granddaughter asks me if they are married and I told her yes — now she calls them Gaga and Gramps which is what she calls my hubby and I. They are awesome."
Awww, see? The bangin' skellies aren't that bad after all.
If you'd like to round out your menagerie of surprising Halloween inflatables, there are a number of seriously WTF blow-ups available to purchase online.
The same company also makes a "Zombie Baby," which is literally the most terrifying yard inflatable I've ever seen. This thing will put a frickin' hex on your family if you look it in the eyes.
GOOSH seems to really love haunted babies because they also offer this cursed "Scary Sitting Baby."
Some other vaguely traumatic, weirdly horny lawn blow-ups include this Pumpkin-headed skeleton, uhm, humping a rocket? I don't know what any of this has to do with Halloween, but it can be yours for only $44.99.
And for something that won't give you nightmare fuel, but is odd, we have this 10-foot tall skeleton unicorn. Yes, really, it's 10 FEET TALL. It will both horrify and enchant passersby.
Happy Halloween ya freaks!