Mom Shares Terrifying Video Of Daughter Being Rescued From Hot Car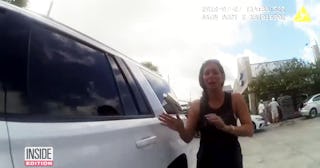 Inside Edition/Youtube
This type of scenario can happen to ANY parent, so it's important to watch this video
One mom is sharing her story after she accidentally locked her 10-month-old daughter inside her car on a hot summer day — because something like this can happen easily and fast. To any parent. The child was eventually rescued by police, and the body cam footage shows the frantic, terrifying moments leading up to it.
Christina Tufford tells WPTV that she was finishing shopping at a Lowe's home store with her daughter Maddie earlier this month when she used the remote start on her key fob. She wanted to get the air conditioning running while she placed her daughter inside her car seat. As she was buckling Maddie in, she put her keys on the seat and began to unload her items into the trunk and then closed the door.
She realized too late that the doors had automatically locked — with the keys inside. She knew she was on borrowed time to get her daughter safely out of the car. The footage below shows her taking swift action to help her baby girl.
She said she called OnStar to see if should could get the car unlocked despite having an expired account, and they were unable to help her. "I'll do whatever it takes," she said she told OnStar. "I'll pay whatever amount of money it takes. Just please reactivate my service so you guys can unlock my car."
Cars with a remote start often shut off automatically after just a few minutes if the keys haven't been properly inserted into the ignition. And that's exactly what happened to Tufford as she stood helplessly outside her vehicle. That's when Tufford sprung into action and called police. "More panic was setting in because time was running out," Tufford said.
The responding officer, Kyle Osinga, made several attempts to break into the car with the help of a tow truck driver, but was ultimately unsuccessful. He and Tufford could see Maddie's condition was worsening as the car grew hotter in temperature.
"I check on the kid a little bit later and the kid is not okay anymore," Osinga tells WPTV. "The head's down and the eyes are closed. That's when the adrenaline, that's when I start to freak out." He broke through a window with a window punch and was able to safely rescue the child. After it became clear Maddie was safe, Tufford used water bottles she had on-hand and poured them on the baby to cool her off.
This incident comes on the heels of a similar situation with a tragic ending where a father of three, Juan Rodriguez, accidentally left his 1-year-old twins inside his hot car all day. The children were found dead at the scene once Rodriguez realized what he'd done.
According to the National Safety Council (NSC), about 37 children die in hot cars each year. That may not seem like a lot, but the majority of the deaths are concentrated between Memorial Day and Labor Day, with about 2 to 3 deaths per week. 87% of kids who die in hot cars are 3 years old or younger. Experts recommend leaving something you need in the backseat of your car — like a purse or your phone — to remind you to go back there before leaving. You can also set reminders or alerts on your phone.
Tufford shared her version of the incident on her own Facebook page.
"As I stated in the beginning of this story, my goal is to raise awareness to other parents," she says in the post. "I now have a window breaker/seatbelt cutter in every purse, along with the inside of my vehicle. It is HOT in South FL, and anything can happen."
This article was originally published on