Hot Cocoa M&M's With Marshmallow Centers Exist Because Diets Are Stupid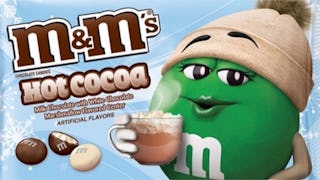 Image via M&Ms
Hot cocoa M&M's with marshmallow centers will make your holidays merry
If you thought Halloween candy was the only thing sabotaging your diet this holiday season, think again. Hot cocoa M&M's with marshmallow centers are here — and they sound very addicting.
These limited-edition candies sound so damn delightful you'll have no choice but to flip on the Hallmark Channel and watch all those amazing, sappy holiday movies. And who cares if it isn't even November yet, surely there's a Christmas tree farm somewhere that's already opened up.
The new flavor is made with milk chocolate and white chocolate, but most importantly, they have a marshmallow-flavored center. Sure, your hot chocolate was okay with just the beverage and whipped cream, but think of how much more merry and deliriously high from the sugar you'll be if you drop some of these M&Ms in it. Say goodbye to your trendy diet (my current one is keto) and say hello to your winter bod.
You'll find the newest flavor exclusively at Target, which is fine because it's our favorite place anyway. Each bag of the magical holiday treat will run you $3.59 and contain about 136 chocolatey delights. If M&M's aren't your thing, don't fret because we've got another hot cocoa dessert for the holidays. For the first time in 10 years, Hershey's is releasing a new seasonal flavor — the Hot Cocoa Kiss.
The folks responsible for this new creation told Delish that the new Kiss "[combines] delectable marshmallow flavored crème and classically delicious Hershey's milk chocolate, creating the experience of drinking a delicious cup of hot cocoa."
Um, yes please.
These limited-edition treats will be available across the nation at various stores. But let's be real — you might as well just grab them at Target along with your gifts, ornaments, wrapping paper, and laundry detergent.
Both hot cocoa masterpieces will hit shelves in November.