A Calendar Full Of Hot Firefighters Holding Puppies? Yes, Please
by Valerie Williams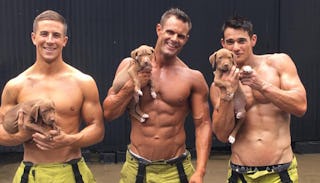 Image via Instagram
There's a calendar for sale full of hot firefighters holding puppies and all proceeds go to charity
Did you wake up this morning hoping to severely confuse your loins? Well, do we have the loin-confusing material of your dreams! Insanely, super-hot, totally ripped, topless firefighters….holding adorable, helpless puppies.
Your mind's telling you no, but your body…your body's definitely telling you yes.
Australia, also known as The Land of Things That Can Kill You, has a yearly calendar full of hot firefighters and all proceeds from sales of said calendar go to charity. The Children's Hospital Foundation and the Westmead Children's Hospital's burn unit, to be exact. This year's calendar will also benefit the RSPCA, an organization that provides care and protection for animals.
Let's also take note of the fact that this crew of smokin' hot dudes who literally save lives and volunteer their time to be in a charity calendar photo-shoot probably have smokin' hot Australian accents to boot.
I'm sorry, I just blacked out for a second. I'm back now.
According to Mashable, various fire-fighting studs have posed for the calendar since 1993 and it's hot every year but this time, it's hot with a side of incredibly sweet. The firefighters are all holding puppies for every single photo. And it's exactly what you need to brighten your day. Or year. And confuse your sexy parts. Awww, so cute! BUT HOT! But oh my goodness, the wittle puppy faces! THOSE ABS THO!
Have a look for yourself at these images from their Instagram. Don't say I didn't warn you.
Can you even? I cannot. This would be a lovely addition to our suburban kitchens, right? It's so wholesome. Puppies! Charity! HOT DUDES! No one can question your judgment here. This would be a purely altruistic purchase made with only the best intentions.
Wink.
But let's be real for a second — this is pretty amazing. Obviously, it's not the toughest job in the world posing for a man meat calendar, but these guys are actual heroes with the job they do. They put their lives on the line every day to help others in trouble, and the fact that they're willing to use their off-time to pose for photos that will benefit multiple charities is a wonderful thing. These guys are a total dream because not only are they hot, they have huge hearts. To match their huge pecs. *Drool*
If you want to buy the calendar, check it out here. Again, all proceeds go to charity. And again, prepare to drool for all of 2017. Thanks hot, kindly firefighters! You make the world a better place.