'Hot Jafar' In Disney's Live Action 'Aladdin' Remake Has Twitter Rooting For The Villain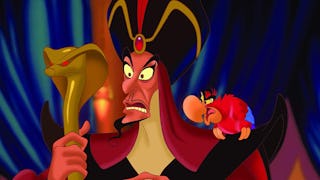 Image via Disney/IMDB
'Hot Jafar' in Disney's Aladdin remake has us officially rooting for the bad guys
Filming for Disney's live action remake of Aladdin is well underway, and we're finally getting first looks at some of the characters. Aladdin, Jasmine and the Genie are all fine, pretty much what we expected to see. But nothing, and we do mean nothing, could've prepared our eyes for Jafar. Or, we should say, Hot Jafar.
Marwan Kenzari was cast to play the role of the villain, and we already knew that he's fine.
But we were thoroughly unprepared for him to put on his bad guy costume and make us all, um, feel some things.
Forget what anyone is saying about Aladdin or Jasmine or that dumb controversy where people were mad that Will Smith isn't blue (because they expected him to be blue? What?). We're all paying attention to Hot Jafar now. Get on board.
I need to hop in a cold shower really fast, so I'm just going to go ahead and let Twitter demonstrate how the entire internet is now rooting for evil based on Jafar's hotness alone.
Like, how does Aladdin even stand a chance? You put him next to that hunk, and I think we all know Al will be lucky to even score an invite to the wedding.
Honestly, some people may be taking this too far, but we would just ask that you scroll back up and take one more peek at Hot Jafar before you judge any of these fine folks for the things they're feeling.
Just…very extreme feelings.
In conclusion, what we thought was a children's movie just might be the next Fifty Shades. Movie theaters may be confusing places when this movie drops on May 24. But hey, when they say fun for the whole family, they really do mean for the whole family, and we're here for it.
This article was originally published on