Op-Ed: Is Erika Jayne A Hustler? I Don't Know...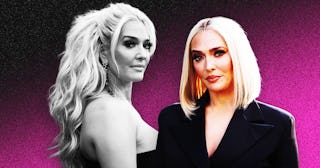 Scary Mommy and Matt Winkelmeyer/Paul Archuleta/Getty
Real Housewives Of Beverly Hills Star Erika Jayne Girardi is entangled in the financial scandal of her estranged husband, famed attorney Thomas Girardi. And just recently, ABC News Originals released "The Housewife and the Hustler" on Hulu, chronicling their current legal woes. And if you have been following any of this, you have to be asking yourself if Erika Jayne is really just the "housewife" or is she a hustler too?
And in case you are not a fan of reality TV and you are reading this thinking who the hell are these people … let me catch you up on the newest reality TV gossip.
Erika Jayne is one of the current stars of Real Housewives of Beverly Hills and is well known for flaunting her wealth on the show. She even made a song about it called "Exxpen$ive."
Erika is married to former high-powered attorney Thomas Girardi, famous for being the real-life attorney that worked with Erin Brockovich (you know, the woman Julia Roberts won an Oscar for portraying). He was also the first attorney in California to win a $1 million-plus award for a medical malpractice case, and has won several multi-million dollar settlements for clients victimized by big corporations over the years.
At one point, Girardi was said to have a net worth of over 250 million dollars. And in a video deposition shared for the first time in the Hulu documentary, Girardi himself said he was worth 50 to 80 million dollars — but now he claims to be broke.
In late 2020, Girardi lost his law license, his once-esteemed downtown Los Angeles law firm, Girardi & Keese, was shut down, and he was forced into bankruptcy. Furthermore, he has been accused of stealing or misappropriating more than $13 million in settlements related to a survivor of the San Bruno gas pipeline explosions and the survivors of victims of an Indonesian plane crash. And after 21 years of marriage, Erika Jayne filed for divorce.
The current accusations are not the first. According to the Los Angeles Times, Girardi and his firm have been sued more than 100 times, and there have been numerous allegations of legal malpractice and misappropriation of settlement funds. Oh… and did I mention that Erika and Tom are being sued for allegedly embezzling funds, and some believe the divorce is a sham being used to protect their assets.
Whew … let me stop here and state that I am neither a judge nor a lawyer, nor do I have an ounce of legal experience under my belt. I am just one of many throwing my two cents into the court of public opinion. But when you extravagantly parade your wealth on a reality TV show seen around the world, you kind of open yourself up to the type of scrutiny that comes along with a documentary such as "The Housewife and The Hustler."
In the Hulu documentary, attorney Brian Kabateck stated, "We represent people who are victimized by big corporations and rich people. Here you're putting it out that you're super wealthy and that you're basically 'the man.'… You don't want to be 'the man.'" But it seems as though Girardi may have turned into "the man" and hustled victims out of much-needed court settlements.
As defined in the Merriam-Webster dictionary, a hustler is one who obtains money by fraud or deceit. And although it has yet to be proven in a court of law, it is becoming clear that at least some of the wealth Thomas Girardi amassed may have come by way of him hustling clients out of their court settlements. But, what is not clear is if Erika Jayne was actually the innocent housewife that was clueless about what her estranged husband was doing? Or, is she managing to hustle herself out of this legal entanglement with millions to her name?
Attorney Jay Edelson shared on the "Reality Life with Kate Casey" podcast, "We believe we're going to be able to prove that Erika was incredibly involved in not just the law firm, but also, he was loaning money to her company … tens of millions of dollars to her company. And we think that money came from client funds."
But Erika is sticking to her story of innocence, even openly speaking about the divorce on season 11 of The Real Housewives of Beverly Hills, which is airing now. But how can one defend keeping money that you are aware may be stolen? Sunny Hostin claimed in the Hulu doc that Erika's defense is that many of her luxury possessions were "gifts to her" and thus "separate property" from Tom.
I have to wonder if it is possible for Erika Jayne to truly not know about her estranged husband's business dealings? I think it is. And I can even understand her wanting to protect herself amidst Girardi's legal mess. However, she is now fully aware that funds she received from her estranged husband were possibly stolen from his victims. And if she doesn't cooperate with legal proceedings, that makes her just as much a hustler as he is.