Houston Neighbors Form Human Chain To Rescue Pregnant Woman in Labor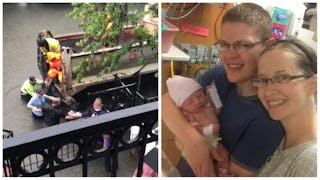 Image via Twitter
The woman went into labor as Hurricane Harvey hit Houston
Pregnant moms are often told this about labor: it's nothing like the movies. But for one couple in Houston, a hurricane, rising floodwaters, and yes, a dump truck, made for an unforgettable and action-packed delivery.
Over the weekend, laboring mother Andrea Smith needed to be transported to a hospital quickly as her contractions grew stronger and stronger. The problem: floodwaters from Hurricane Harvey were rising higher and higher near her home.
Her husband tried 911, the lines were dead. They called the Coast Guard – nothing. As the couple scrambled to prepare for a home birth, a quick-thinking neighbor arranged for an emergency vehicle to pick up Andrea just in the nick of time. But it wasn't an ambulance … it was a dump truck. In what can only be described as peak human-ing, neighbors formed a human chain in the floodwaters for her and her husband to climb aboard the truck safely. The Facebook video posted by her neighbor is incredible.
"Moments like these are incredibly precious and remind me of all the good in the world," neighbor Molly Ackers writes in the caption. And while it certainly was a beautiful sight, Andrea and Greg Smith definitely didn't have this in their birth plan.
Both Andrea and Greg are doctors who arrived in Houston in late July to participate in advanced medical training. Andrea specializes in geriatrics and Greg in pediatric anesthesia.
"We're very new to Houston — and new to hurricanes," Greg tells PEOPLE. Because they are new, they relied on the advice of their neighbors and co-workers to help guide them towards making a good plan for the birth of their first child. They even had a backup plan to go early to the hospital, just to be on the extra safe side.
Like many pregnant women, Andrea had been experiencing contractions for weeks and as her due date approached they continued. Hurricane Harvey had made landfall further down the coast Friday and was weakening as it traveled through land. The couple decided that they would drive to the hospital on Sunday morning because on Saturday night there was only light rain and no flooding where they were in Houston. But the rain didn't stop.
"I expected there would be five or six inches that I could drive through," Greg explains. "I woke up to two or three feet."
As the waters continued to rise, so did the intensity of Andrea's contractions. There was no question – their baby was on the way. They called 911.
"It kept kicking us off the line," he says. "I couldn't get through."
Greg's mother, who was in town to help out when the baby was born, also made a few more calls, but got nothing. They'd have to deliver the baby at home. As a last resort, the family put out a message to neighbors, many of whom are in the medical community.
Soon sutures, scissors, and some other medical supplies arrived at their door. They boiled water to sterilize everything and they put down towels. They had a doctor friend who was going to coach them through the delivery via Skype or Facetime ready to go.
Meanwhile, the neighbors kept watching the floodwaters. They were rising. The makeshift delivery room was going to have to be moved upstairs to another apartment.
While all of this was going on, one of the neighbors was telling someone they know about the situation. This set off a chain of events and soon what appeared to be a garbage truck came down the street. Greg and the neighbors flagged it down.
"They said, 'We're here for you,'" Greg says.
They grabbed their umbrellas and baby bags and made for the truck, but they needed help. So neighbors formed a human chain to help the laboring mother get to the truck safely.
"I wanted so bad to be on that dump truck," Sue Chor, Greg's mother says. "They were whisked away before I knew it."
On board were firemen who drove slowly and safely to the nearest hospital. Once the couple arrived they were offered dry clothes and a delivery room.
"If she were born at home, that wouldn't have been the best place for her," Greg says. "I'm so glad she is in the hospital."
This is the couple's first born child, they had suffered two miscarriages before this. The couple says they have so much gratitude for everyone involved, and Greg adds, "Everything about this pregnancy we said is God's will. That's why her name is Adrielle. It means she belongs to God."
This article was originally published on