From A Houstonian: 9 Things You Can Do To Help Hurricane Harvey Victims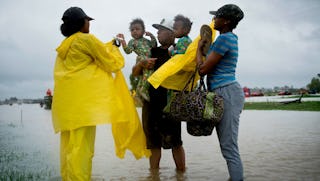 Brendan Smialowski / Getty Images
Because of Hurricane Harvey, I have spent hours in front of the television, checking my phone for tornado and flash flood warnings every time it beeps, crying, praying, and wondering, Is this really happening?
Is Hurricane Harvey Houston's version of Katrina?
The threat of Hurricane Harvey seemed to materialize so quickly without much time to prepare. I had been told that this could be Houston's version of Hurricane Katrina.
Katrina? No way! Houston is 40 miles from the coast and 50–100 feet above sea level.
My husband is a civil engineer who specializes in land development (AKA underground utilities and drainage). I use to joke with our kids that Daddy's job is to make sure the poop goes away from our house and water drains off of our streets.
I was comforted by the fact that he has access to the area flood plain maps and has always made sure we only purchase a house in a "safe" area. Currently, the flood plain maps define areas based on a 100-year event or a 500-year event. Our home was in an area that was well outside the 500-year flood zone, yet our home came very close to flooding.
That, my friends, is the severity and magnitude of Hurricane Harvey.
Little did I know that we were to experience three consecutive days and nights of going to bed wondering if a tornado would touch down on our roof or if water would creep into our home as we slept.
Having grown up in south Louisiana (Cajun Country), I consider myself a hurricane veteran. I thought I was prepared.
Catastrophic effects of Harvey
Harvey was different. It brought heavy winds as expected, tornadoes, and rain. What made it different is that these conditions (which usually last a maximum of 24 hours over any given area in its path) lasted many days.
Harvey did not discriminate between the rich and the poor. I have friends who live in mobile homes and friends who live in 5,000-square-foot homes; some of both lost their homes. There is no doubt that the lower-income residents of Houston will have fewer resources to use in rebuilding their homes and lives. Retirees will also have a tough road ahead of them since many live on fixed incomes.
The constant thought that kept running through my head during Hurricane Harvey was how I so don't want to be an adult right now. It would be so much easier to be a kid and feel the safety and protection of my parents.
Hardest parenting challenge yet
And speaking of feeling safe and protected by my parents, I can honestly say that this has been the most difficult challenge I have encountered in my 13 years of parenting.
The responsibility of making the "right" decision for my children was nerve-racking.
There were so many life and death decisions I had to make over the last several days.
Should we get in our car and attempt to evacuate?
Where should the kids sleep so that we can scoop them up in time to get to the most protected area of the house if we hear the telltale sounds of a freight train signifying a tornado?
Should my husband and I even sleep? Or take constant shifts through the night to monitor the weather threat?
Should we make the kids huddle up in the interior bathroom of our house each time we receive an emergency warning that a tornado may touch down? We had no less than 20 of those over the course of three days."
In the end, I had to focus on the fact that I am an adult, and most importantly, a parent. It was time to "put my big girl panties on" and pray I was making the right decisions for my family's welfare. (Although I have mostly spoken as "I," it was really "we." I could not have made it through without the clear thinking of my husband.)
Ultimately, our home was spared.
Should you feel guilty?
Naturally, my instinctive reaction is to feel guilty. I am sure the same thoughts have crossed your mind as well.
Why were we spared? How did we not lose electricity or run out of food or water?
With the threat of our house being flooded, I started to think that maybe losing so much "stuff" would be a good life lesson. A lesson that "things" are not that important. A reality check that our loved ones are worth 10 times more than any one material belonging.
That being said, we would — and so many others have — also lose belongings that have immense meaning and value. Wedding pictures, baby albums, birth certificates, family heirlooms, businesses that are our livelihood, immediate medical care, loss of medical devices, and equipment that keeps us alive and health as well as transportation, shelter, food, and medicines.
Instead of being overwhelmed with guilt that you escaped so much of this utter devastation, focus on what you can do to help those neighbors and families who were not so lucky.
Reframe your perspective that you didn't just "luck out," but that you were allowed to keep all of your resources in order to help out those who lost theirs.
#HoustonStrong
This has become a trending hashtag. The reason why is because so many are coming together to give of their time, treasure, and talents to help those in need. There were countless civilian rescues made by some of the very same people who lost their homes. The response they gave when asked by a reporter why are they helping with rescues, their answer — simple yet profound: "Because we can."
So I encourage you — moms who didn't lose anything — focus your energy on the things you can do, or can give, and leave the guilt by the wayside.
What can we do? (other than have feelings of guilt)
1. Help others apply for FEMA aid and make insurance claims.
There are so many things to take care of — applying for FEMA, making insurance claims, booking hotel and car reservations. So many who need to be doing these things are exhausted, overwhelmed, and emotionally devastated. Getting these business matters done in a timely manner is not within their abilities.
That is where you can come in. Reach out to people you know or are hear about who are in these circumstances and step in to do the "legwork," phone calls, paperwork, and manage that process for them.
Reach out to your personal contacts via places like Facebook, and through emails and phone numbers you have.
2. Donate money or specific items requested by organization.
While our instincts tell us that any and all clothing, food, and toy donations will make a big difference for families who have been devastated by loss, CBS New reports that "many of the well-meaning articles we Americans donate in times of disaster turn out to be of no use to those in need. Sometimes, they even get in the way." Instead, research organizations that are asking for specific items — some groups have even created Amazon wish lists.
3. Provide food, snacks, drinks by either grocery shopping or cooking for:
– Families who are trying to clean up, repair, and rebuild their homes that were flooded or damaged by the wind. These people are occupied with getting their homes back to livable conditions as soon as possible and may not have time or energy to think about going to the grocery store or cooking food.
– First responders and volunteers, many of whom have been working nonstop without sleep or much food and water.
– People in shelters.
4. Offer to babysit or watch children who have been affected by the disaster.
Since so many families are in the midst of salvaging, clean up, and repair, having their children cared for while they work is incredibly helpful. It also allows the children to get out to burn off some energy and experience some fun for the first time in many days.
5. Help local homeowners and business owners.
You can put yourself to work volunteering in a home or business that was devastated by flooding and intense wind.
6. Visit nursing homes.
Can you comprehend the elderly who have dementia, memory conditions, health issues, and physical limitations having to be evacuated and relocated to a different environment, often being transported in the pouring rain through flooded streets? I can only imagine how distressing that was for them.
Many of the staff, just like in hospitals, stayed in the nursing homes to take care of the residents through the storm and have been working on little sleep and food for days.
7. Volunteer at shelters.
There is an incredible number of evacuees these shelters in the area are taking in. So many tasks to take care of and help these people. Sorting donations, serving food, handing out supplies, and helping people get in touch with loved ones are just some of the matters being undertaken by volunteer organizations.
8. Include your kids in volunteer efforts.
So many of our children are too young to understand the ramifications of such a crisis. If your family escaped the devastation, chances are your kids have no concept of what so many other children are experiencing now. They are probably getting rowdy, grumpy, and bored from so many days being cooped up in the house.
By taking them with you to a shelter to volunteer or to deliver meals, provisions, and toys, they can begin to understand what happened and how fortunate they are. It's a valuable teachable moment you can use to develop charitable and generous hearts in your children.
9. Focus on how your blessings can bless others.
Although our first reaction might be to feel guilty that we have been spared the most heart-wrenching and devastating circumstances, we do not need to dwell or beat ourselves up on that fact. Instead, focus on how you have been given an amazing opportunity to have such a positive and life-changing impact on so many others.