Human Trafficking Sergeant Talks About How To Keep Our Children Safe Online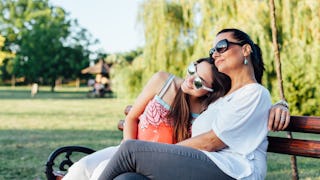 Shutterstock
Keeping up with our children's online footprint is more important that ever. We all know most tweens and teens spend at least some of their free time with their heads buried in a phone or device. Being "plugged in" is the norm these days, but the question of keeping our children safe within their digital universe continues to become more complex with new apps on the market every day. If you think your child is completely safe online, think again. Predators are continuing to rely more and more on social media to gain entrance into our children's worlds. And it is working.
RELATED: The Modern Parent's Guide To Internet Safety For Kids
"Every child feels insecure at some point in their lives. If a sex trafficker finds them online when they are feeling low, they are at risk," said Sergeant Nikkole Peterson, who works in the Human Trafficking division in St. Paul, Minnesota. A warning that should be heeded by all parents. Sex traffickers worldwide are increasingly using social media to contact teens and seduce them into commercial sex work and those numbers are rising every year.
Between 100,000 and 300,000 children in the U.S. are forced into commercial sex work every year. When international trafficking victims are added to these estimates, the number of child victims sharply rises to close to two million.
"Even if we identified all traffickers or victims online, law enforcement across the country lack the manpower and resources to effectively respond," Peterson says. She and other agents in the Human Trafficking Unit worked on a sting in North Dakota in 2016 that had to be shut down because they didn't have enough staff to process the amount johns who showed up to participate in sex with an undercover agent posing as a 15 year old child.
Peterson believes there is a widespread misconception about what "type" of person may be vulnerable online — a false belief that could be putting your child at risk. Sex trafficking used to be limited to an offense of the streets, but todays predators message thousands of people through Instagram, Facebook, Musical.ly, WhatsApp, and Snapchat.
The average age of girls being lured into commercial sex work according to Peterson, is just 13. The most common denominator among victims — a history of physical, sexual or substance abuse, low self-esteem, lack of family relationships or support network, those unengaged with school and work, and immigrants and refugees. But as Peterson pointed out, all children online are at risk.
Misconceptions of sex trafficking make it easier for traffickers to target victims not considered "typical" prey. We see sex trafficking played out in movies, usually in the form of a violent kidnapping, a child being taken across borders or by strangers, and those circumstances, says Peterson, are rare.
"In a lot of cases, a trafficker makes contact with a girl online after weeks of watching their social media accounts," Peterson explains. "A teen (usually female) will post something about a fight with their parents or boyfriend and it begins. These predators will befriend them; tell them they shouldn't be treated like that, that they are special."
Once trust is established, the trafficker moves in, even if that relationship is manifested entirely online. "The goal is for his victim to become dependent on him for validation. Then, he poses a financial problem that only she can solve," Peterson says. "Often, the trafficker will ask the victim to perform a sex act 'just this once' to help them out of a financial bind." As soon as it happens once, they have their hook. It quickly becomes, "If you don't do it again, I'm going to tell your parents, humiliate or beat you, or worse," Peterson explains.
In a recent article published by the ABA Journal, FBI agent and lawyer Jeffrey Veltri, said, "Much like law enforcement uses social media to gather information about victims, gang members and predators use it to find vulnerable teens, mostly girls they can groom for the sex trade. That's why it's so important for parents and caregivers to be fully aware of who their children are talking to online," he urges.
It is often difficult for parents to track their child's online footprint. Instructions for hiding apps are easily available online, and keeping up with the latest application updates can be challenging. Many apps have private texting capabilities, so even if you are diligently checking your child's online activities, there can be hidden features. There are also ghost and vault apps like Private Photo (Calculator%) that looks like a standard calculator but have the ability to store images and files making it difficult to know to whom your child is communicating.
Regardless of the advances in online technology, protecting our children starts at home.
"Talk to your children about the dangers of social media; how easy they can be lured in and give them specific examples. So often, teens feel as though it can't happen to them –they need to understand how easily it can happen and how it can happen to anyone," Peterson says. Monitor their social media accounts often, make sure they are set to private and understand who they are spending time with. Download free guides like A Parents' Guide to Internet Safety to understand where your child may be vulnerable.
Ultimately, we are all responsible for ensuring all children are protected. We have to understand the warning signs, educate and report suspicions, and take action. Not just for our children but for those children who are not always seen by society. Those that runaway, are thrown way, or that do not have the physical, emotional or mental capability to do so for themselves.
This article was originally published on