How To Choose Your Jukebox Song Wisely
by Maggie Downs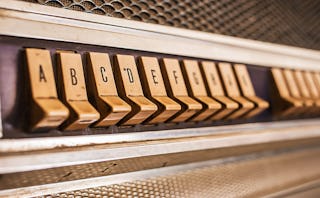 "It'll be ironic," I thought recently, swiping my credit card on the machine. Before I knew it, I'd spent the equivalent of Uruguay's gross national product just to hear a terrible '90s song—only to have the bartender skip the song after 10 seconds.
I said, "What about 'Breakfast at Tiffany's'?"
He said it doesn't belong in a bar. That's what. And then I was out a kazillion dollars for nothing.
Somehow when I wasn't looking, jukeboxes became ridiculously expensive, especially those touch-screen jukes that pretend to hold every song you could ever want. This kind of jukebox is not your friend. You think you'll just insert a dollar, but before you know it, you can't make your next student loan payment.
That's why you have to be strategic about your jukebox selections. Let me guide you:
The Crowd-Pleasers
These songs are the puppies of the jukebox world—universally loved and guaranteed to make everyone squeal.
Best bets: "Sweet Home Alabama," "Sweet Caroline," "Sweet Child O' Mine"—anything sweet, really. "Brown Eyed Girl," "Old Time Rock and Roll," "Single Ladies (Put a Ring on It)," "Respect."
The Songs You Genuinely Love
These will not necessarily make the crowd happy, and, in fact, they might make people angry. But you'll be busy singing into your bottle as though it were a magical microphone that gives you beer, so you win.
Best bets: "P.Y.T." Anything from Beck's experimental phases. "Everybody (Backstreet's Back)." All the Sonic Youth songs that are really just heavy distortion. Bobby Brown, from New Edition to present.
The Guilty Pleasure Songs (That Are Actually Just a Pleasure)
This is where you reveal your true colors.
Best bets: "November Rain," "Return of the Mack." And I don't care what anyone says about New Radicals, "You Get What You Give" is a solid, solid pop song.
The Long Songs
Well, you want to get your money's worth, don't you?
Best bets: "Purple Rain," clocking in at 8:42. "Gypsy Woman" by Tim Buckley, a solid 12:19. Longest of all is "Thursday Afternoon" by Brian Eno, a formidable 61 minutes. Meat Loaf is always a sure thing too, as he's terrible with time management.
The Hip Songs
These need to be either very old or very new, depending on the crowd you'd like to impress.
Best bets: For new tunes, select a song by a band that misspells a word, like Chvrches or Haerts. For old-school tracks ask yourself, "What would Zach Braff do?" and then choose something slightly more obscure. Got a favorite Nick Drake B-side? Perfect.
The Umlauts
I have this theory that everything is better with an umlaut, and that's true for bands too.
Best bets: "Could You Be the One?" by Hüsker Dü. Anything by Mötley Crüe, Björk or Motörhead, And if you can handle dude-bros hollering about cowbell, play "(Don't Fear) the Reaper" by Blue Öyster Cult. Just stay away from Queensrÿche, which I'm pretty sure has been banned from public spaces since 1994.
This article was originally published on