How To Get On HGTV Shows And Reno, Buy, Or Sell Your Home Like A Pro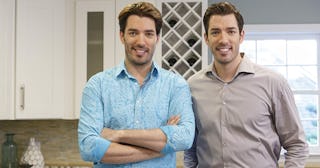 Cineflix Productions/HGTV
Are you addicted to watching HGTV? Do you watch your favorite show and dream about one day appearing on it? Maybe you're debating between loving or listing your home, or maybe you'd love a personal renovation by those dreamy Property Brothers. If you're wondering how you fulfill the desires of your home reno heart, wonder no more. We found and consolidated all the necessary information for you that will tell you exactly how to get on HGTV shows.
How to Get On Property Brothers
Don't worry: you don't have to pick your favorite brother to get on this popular show. According to the HGTV website, casting for Property Brothers will be announced via its website, so if you see casting notices elsewhere, beware of scammers. The show lists the following criteria to be considered:
• Be buying and renovating a 'fixer-upper'.
• Be outgoing, energetic, opinionated, and fun with unique stories to tell. • Need expert design and construction help. • Have minimum renovation and design budget of $90,000+ (depending on scope of work). • Be able to make quick decisions in order to keep to tight timelines. • Be available for up to 7-10 days of filming (staggered over 7-8 weeks).| • Be enthusiastic about working with Jonathan and his design team who have the know-how to help create your dream home. • Must be 21 years of age or older to apply and complete the online application form.
To be considered for the show, you can apply online here.
How to Get On Love It or List It
If you and your partner are caught between staying in your home or listing it for a new one, then this is the show for you. According to the HGTV website, applicants for Love It or List It must live in Raleigh-Durham or within a 45 minute drive of the Triangle in North Carolina, "and have a reasonable renovation budget to be considered." You'll have to be down with their design team renovating your home, while also be open to viewing new dream homes by a "savvy real estate agent."
To be a part of this series, apply here.
How to Get on House Hunters
Do you need help finding your dream house, apartment, or vacation spot? Then House Hunters could be exactly what you're looking for. According to the official HGTV website, the show is looking for energetic people, whether you're coupled up, single, or a part of a family, across America. Bonus: if you've got an interesting or fun story, then all the better! Keep in mind that you'll be working with a real estate agent to help you decide which home is best for you.
If you're interested in appearing on the show, please fill out an application on the Pietown.tv website.
How to Get on House Hunters International
Longing to get away from it all and landing the house of your dreams in a foreign country? Then House Hunters International could be the show for you. According to the HGTV website, the show is casting English-speaking contestants from all over the world who are buying or renting a home outside of the United States or living outside the United States and buying or renting a home in a new country. Again, the more energetic and fun you are, the better chance you'll have at being cast.
Those interested can send an e-mail about yourselves and the details of your move to househunterscasting@leopardusa.com. Include the following information in your email: your name, phone number, current location, new location, estimated move date and don't forget to attach a photo of you and your family. Casting will be in touch with more details after they receive your email.
Related: Property Brothers Ornaments Exist For Your HGTV-Obsessed Home
This article was originally published on