How to Make Big Life Changes With Unsupportive Friends
by Gretchen Rubin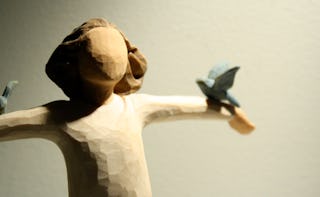 I'd heard about the work of Dr. Brian Little from many pals of mine who are interested in the same kinds of subjects that interest me: human nature, habits, happiness, research, etc. So I was very pleased to get my hands on his new book, Me, Myself, and Us: The Science of Personality and the Art of Well-Being.
Just reading the subtitle of Little's book was enough to show me that he and I have many interests in common, and I was very curious to hear what he had to say about his own habits and happiness.
You've done fascinating research. What's the most significant thing you've concluded on the subject of habits?
In the first chapter of Me, Myself and Us, I talk about how our "personal constructs" shape our lives. These are the conceptual goggles through which we view ourselves and others, and typically take the form of concepts like "bright," "lover of cats," "stupid," "sexy," "utterly disorganized," etc. Sometimes these personal constructs become so habitual that they decrease our degrees of freedom to live well and wisely. It's similar with our personal projects, which I feature in the closing chapters. While personal constructs are ways of thinking, personal projects are deeds that we do in our daily lives. They, too, can become calcified, predictable and stale, and there are ways in which we can begin the progress of redesigning our personal projects so that we are more likely to thrive and flourish.
What's a simple habit that consistently makes you happier?
I have the habit of reflexively trying not to be habitual. Some might regard this as chimerical.
What's something you know now about forming healthy habits that you didn't know when you were 18 years old?
That you need to let others know about your resolve to engage in healthy habits—it's hard to sustain them if you are the only one aware of them. But be careful whom you choose to let in on your change plan. In Me, Myself and Us, I discuss various dimensions of personality that would not be conducive to helping you in a nurturing and supportive fashion. And the characteristics that might work for me might not work for you.
Do you have any habits that continually get in the way of your happiness?
My tendency toward perfectionism. But it helps with other aspects of my well-being—like a sense of efficacious achievement (which can be quite joyous in its own way).
Which habits are most important to you? (For health, for creativity, for productivity, for leisure, etc.)
The habit of alacrity—responding eagerly to the unfolding opportunities in life. Even if they force me to act out of my comfort zone. I am a biogenic introvert, but my passion is being a university professor and professing often requires that I act out of character—that I act as a pseudo-extrovert—to convey with gusto (one student called it pesto!) the field of personality psychology to my students. I think the key to successful professing is to have highly combustible students and then light a match. If I were habitually opposed to lighting matches, my deepest core projects would remain unfulfilled. And this applies to the pursuit of all core projects in our lives.
Acting out of character can be exhausting; we need to find restorative niches in which we can return to our more natural psychological state.
They sometimes enjoin us to act out of character, and much of Me, Myself and Us is concerned with examining how we do this in our lives. Acting out of character can be exhausting, however, and we need to find restorative niches in which we can return to our more natural psychological state. I find restrooms in which I can hide after a lecture to be particularly salutary. Susan Cain spent part of Chapter Nine in her Quiet: The Power of Introverts in a World That Can't Stop Talking describing how this can sometimes lead to embarrassing interactions. I expand further in my own book.
Have you ever managed to gain a challenging healthy habit—or to break an unhealthy habit? If so, how did you do it?
I quit smoking by sheer bloody mindedness in early adulthood.
Would you describe yourself as an Upholder, a Questioner, a Rebel, or an Obliger?
Because I value alacrity, I would say that I am generally an Upholder. But I am rather skeptical of "fixed" traits and can often be a Rebel, particularly when I feel that there have been unreasonable constraints placed upon the pursuit of my core projects or of those I love.
Does anything tend to interfere with your ability to keep your healthy habits (travel, parties)?
The slings and arrows of outrageous overload prevent me from being as vigorously healthy as I might be. But I guess I need to weigh whether being, say, ten pounds lighter, or supple and super strong would be worth trading off for avuncular warmth, laughter and the capacity to chill and enjoy life. Some people can do it, but I'm not so sure I could. That said, I recently gave a talk to 500 fitness experts and came away emboldened to become svelte. The glow lasted for 18 hours.
Have you ever been hit by a lightning bolt, when you changed a major habit very suddenly as a consequence of reading a book, a conversation with a friend, a milestone birthday, a health scare?
When I met Susan, my wife, I was struck by a lightning bolt that changed me and my habits forever, but the details shall remain between us.
Do you embrace habits or resist them?
Depends on the habit. I don't embrace resistance unless matters of honor are at stake.
Has another person ever had a big influence on your habits?
Do cats count?
To read more by Gretchen Rubin, visit her site.
This article was originally published on