Don't Throw Away Those Eclipse Glasses — Donate To This Amazing Cause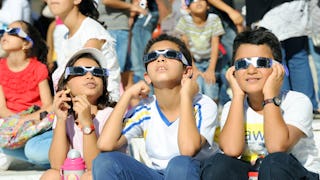 Image via FETHI BELAID/AFP/Getty Images
Don't throw away your eclipse glasses!
It's something we all saw coming: The moment the Aug. 21 total solar eclipse was over, all those priceless, hard-to-find plastic viewing glasses with cardboard frames became flimsy souvenirs at best, and a whole lot of waste at worst.
Or did they?
Don't toss your eclipse glasses just yet, because there's a cool way you can recycle them while also helping provide science education to kids in Asia and South America. California-based charity organization Astronomers Without Borders has put out a call asking people to donate their used, undamaged eclipse glasses, which will then be distributed to kids on other continents when they have the opportunity to view a total solar eclipse in 2019. That's a win-win for sure.
"Give your eclipse glasses a second chance!" the organization wrote in a plea on its Facebook page. "Astronomers Without Borders and its partners will be announcing a program to collect glasses after the eclipse, to be sent to schools in South America and Asia when eclipses cross those continents in 2019. Information on how you can participate in this program to spread STEM resources around the world will be coming soon so gather them up. Don't waste. Donate!"
There's no set information yet on where Astronomers Without Borders is going to collect the glasses, but a list of addresses of astronomy clubs and companies willing to receive them will be announced as soon as it's available on the organization's website and Facebook page. If you're really itching to unload your glasses ASAP, you can mail them to Explore Scientific, Astronomers Without Borders' corporate sponsor, at 621 Madison Street, Springdale, Arkansas.
"This is an opportunity for schools to have a first-hand science experience that they might not otherwise have," Astronomers Without Borders president Mike Simmons told Gizmodo. "Many schools in developing countries don't have resources for science education and this is a rare opportunity that inspires students and teachers."
In 2013, Astronomers Without Borders was able to get almost 14,000 pairs of solar eclipse glasses to kids in Africa so they could see an eclipse that happened there. This year's Great American Eclipse was so popular, they can probably collect even more this time.
We've all been drilled for weeks about how important it is to wear protective eyewear when viewing a solar eclipse, so do your part to help kids around the world stay safe when they get a chance to experience one, and hang onto those glasses until you're able to donate them.