8 Tips for How to Save on Thanksgiving Dinner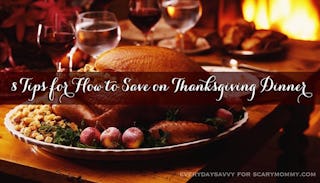 The average cost of a 10-serving Thanksgiving dinner will be $49.48 this year, according to a study by the American Farm Bureau Federation. However, using these tips for how to save on Thanksgiving dinner, you can stretch your money further. Planning ahead really does pay…
1. Make a budget and a grocery list. Determine how big of a turkey you will need and all the dishes you plan to prepare and the ingredients needed. The rule of thumb for a turkey is 1 pound per person. However, if you have a bunch of side dishes or kids you may want to buy less.
2. Go simple. Remember, most people just love the basics for Thanksgiving. Make mashed potatoes vs a fancy potato casserole with exotic ingredients. Your guests will be happy and you won't have to buy extra ingredients that rarely get used and are pricey. Also, you don't have to make a huge number of side dishes. Figure out a few of your favorites and stick with those. Your budget and your waistline will thank you.
3. Compare grocery ads and buy loss leaders. Almost all grocery stores offer a deal on a turkey and other traditional Thanksgiving ingredients. Some may even offer a free turkey with purchase. Why do they do this? They want you to come to their store to shop and they will offer some items at a loss in order to bring you to their store. If you complete your shopping at multiple stores and buy just the items on sale, you can really stretch your budget. If you have a smartphone, you can use my favorite free grocery store app Favado to do this work for you. It lists the top deals at your local grocery stores and you can even search by item! For example, you can type in turkey and it will list the price of turkey at your local grocery stores and national chains. Learn more about this great free grocery store app here.
4. Stack coupons on top of sale prices. The next step in really saving is to use coupons in addition to buying items on sale. This is when you will see your savings start to add up. You can sometimes get items for pennies on the dollar when you use this strategy. You can search this coupon database for printable, newspaper, digital and app coupons.
5. Use generic or house brand items. The quality of generic and house brand items are very good now and often made in the exact same production line as the name brand. No one in your family will notice if you use house brand sugar and flour in your recipes. Always price check though with the unit price. Sometimes with sales and/or coupons the name brand may be cheaper.
6. Make it from scratch. Homemade gravy costs just cents compared to jar of gravy and the taste is much better. Cut your own vegetables instead of buying them pre cut. You almost always will pay more when the store does the work for you. Get the whole family to help out with chopping, mixing etc.
7. Have guests bring a dish to pass. Don't feel like you have to do it all. It is easy for guests to bring a pie or rolls and that is one less thing you have to buy or prepare. That saves you time and money!
8. Don't stress the small stuff. Thanksgiving is about spending time with family and friends. No one is expecting fancy decorations and exotic side dishes. Put down a tablecloth and maybe a few candles and you are good to go. There is no need to buy fancy centerpieces etc. If you keep things simple, you will save money and have more time to enjoy this wonderful meal with your family and friends.
Related post: 9 Thanksgiving Guests Who Will Drive You Crazy
This article was originally published on